Didymos Baby Woven Wrap Prima Natural
Didymos Baby Woven Wrap Prima Natural
Product Description
Description
Didymos Natural White! 
A thin-medium, superbly soft, undyed organic cotton.

This is an iconic Didymos weave and a fan favourite. Having existed in different permutations since the 1970's this weave has withstood the test of time and passing trends. With their classic look to their airy weave, there is one for everyone. We find them easy to wrap with, soft after just one wash, and visually stunning. It's a personal favourite at Little Zen One, comprising a good deal of our stash.
Like all Didymos wraps, they offer support in the width and length, but have nice diagonal stretch.
Details:
Material: 100% Organic Cotton
Color: Natural, White
Material: 210 GSM
 How do you wash your Didymos? Washing instructions
 *Some sizes may take about two weeks for delivery*
Shipping
In-stock orders ship within 72 business hours from our warehouse. You can choose Flat Rate or Carrier Calculated Shipping. Please note, there are delays with the first (initial) scan at all carriers due to COVID volume. We ship with USPS in United States. In Canada via Canada Post, Purolator, Canpar and UPS. Worldwide with Asendia or USPS. If you need your order faster - no problem! Please reach out and we can off Express and Priority Shipping Options. Outside of North America? You may be charged duties and/or customs fees.
Customer Reviews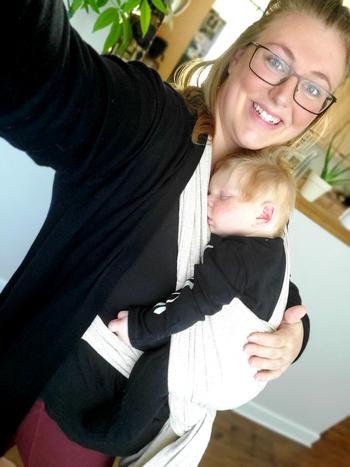 11/03/2021
I recommend this product
The perfect wrap
I love this wrap. Its the perfect wrap for every occasion and goes with everything. And its so soft! Squish approved.
Ashley

United States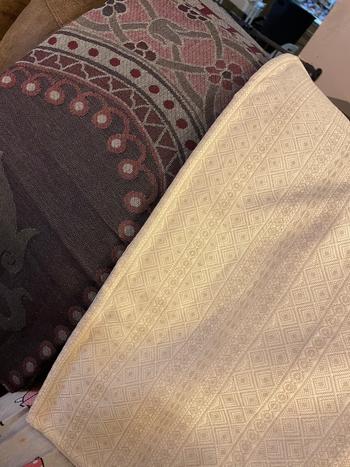 06/08/2021
It fluffed up so much more then I thought
This is my second Prima and Allie picked it as a part of a bundle for me. I have a tri blend and this one arrived so soft and believe it or not got softer after a wash. The color is a bit intimidating as it's a beautiful cream color but I reach for it quite a bit as it makes me feel fancy even when I'm in leggings and a tank. It's one I wanted but wasn't brave enough to actually pick and had been in my wish list.
Alexandra H.
Levelland, Texas, United States
07/21/2020
So soft!
This wrap is so soft!! My little one just loves it. So much prettier in person and the perfect neutral.
Heather
Sanford, Florida, United States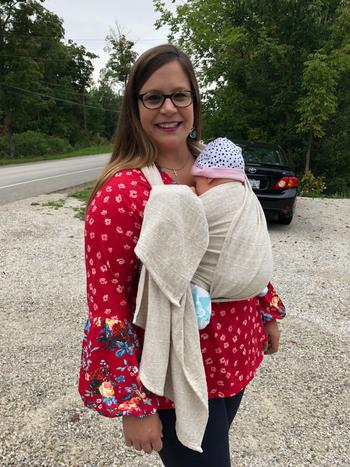 10/01/2018
Buy this wrap!!
If I only had one wrap, this would be the one :) this wrap is so soft right out of the box with the perfect amount of stretch, thin in hand, easy to work with, squish-friendly and so elegant! Goes with everything! Do yourself a favour, and buy it!! (And work with Allie for all your wrap needs, her customer service is above and beyond!).
Anastasia B.
Brampton, Ontario, Canada
04/16/2022
I recommend this product
Stunning wrap
This is my first woven wrap. I have a stretchy wrap and loved wearing my LO, but it kept stretching out and I found it difficult to get the correct tightness, so I decided to take the expensive leap and buy a woven wrap. The woven took a bit longer to put on the first time or two as I learned how to tighten and tie it, but I've now mastered one wrap style and look forward to branching out to others. The woven wrap distributes weight more evenly and is much more comfortable to wear than my stretchy wrap. I'm very happy with the wrap itself. The subtle neutral colorway won't clash or "take over" my outfit, however the pattern has enough interest that the wrap isn't boring. The quality appears impeccable as well to my (admittedly untrained) eye. I had initially debated if I should go with a wrap pattern I didn't prefer just to get a linen blend because I live in a hot climate, but I'm happy with this 100% cotton wrap. I have already worn my LO in this wrap on a several hour long excursion walking in midday 90+ degree heat. Of course I was warm, but I was less hot than I expected. The breathability of the fabric made the most of the little breeze that was present. Allie was very helpful when I had a question about my order, and I would definitely order from Little Zen One if I buy another wrap!
06/29/2020
Didymos Baby Woven Wrap Prima Natural
Jessica Z.
Minneapolis, Minnesota, United States