Didymos Baby Woven Wrap Leo
Didymos Baby Woven Wrap Leo
Product Description
Description
Didymos Baby Woven Wrap Leo.

The elegance and beauty of a black leopard, in a woven wrap. Woven from 100% organic cotton the weave is soft and finely textured,  woven in anthracite black and sahara beige -  the colors are reversed on each side of the wrap. 

The medium weight fabric with optimal inherent diagonal stretch is supportive and wonderfully comfortable to tie and to wear. The perfect wrap for all skill levels, seasons, and little ones.
Material: 100% Organic Cotton

How do you wash your Didymos woven wrap? Washing instructions
Tested to the EU and North American ASTM standards.


Shipping
In-stock orders ship within 72 business hours from our warehouse. You can choose Flat Rate or Carrier Calculated Shipping. Please note, there are delays with the first (initial) scan at all carriers due to COVID volume. We ship with USPS in United States. In Canada via Canada Post, Purolator, Canpar and UPS. Worldwide with Asendia or USPS. If you need your order faster - no problem! Please reach out and we can off Express and Priority Shipping Options. Outside of North America? You may be charged duties and/or customs fees.
Customer Reviews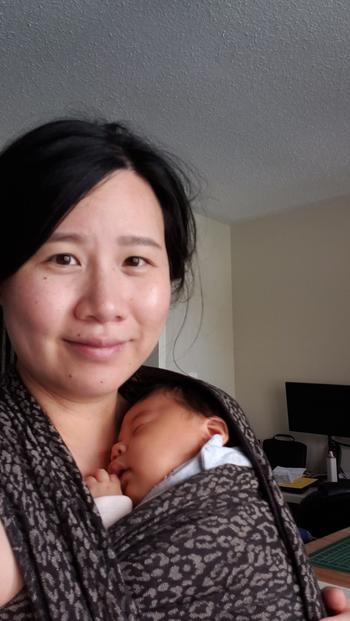 11/23/2019
Love my Leo, Love LZO!
Such a comfortable and elegant wrap of excellent quality! But just as importantly, I want to share my experience with LZO's customer service: Allie reached out to me when this design was inadvertently oversold during a sale. She was apologetic and asked if I'd like another, but I declined, explaining that I had sentimental reasons for wanting this particular wrap. With no prompting, Allie offered to order one in, upheld the original sale price, AND threw in a small gift for my "trouble". The honesty, personal touch and kindness with which Allie runs her business is what makes LZO stand out and will have me coming back again and again. In fact, I have just placed an order to try out my first "shortie"!
11/05/2021
I recommend this product
Love the fit!
Allie has such great customer care. The product I ordered was backordered and she emailed to see if I wanted to swap it for something in stock. So glad I held out for the leopard. The print is beautiful and the quality of the wrap feels luxe and like it will last forever. I love the fit of the woven wrap. It feels more secure than the structured wrap because I know it's custom to my daughter and me. Grateful to Little Zen One for stocking such beautiful and unique products!
Kira P.

United States
10/03/2020
Disappointing! Baby Wrap Gift arrived in Wrong Color & Created a Chore for New Mom
Disappointing! My original order Didymis-Baby Woven Wrap Leo-6 which I had shipped directly to my son / daughter-in-law's home, as a new baby gift, arrived in the wrong color (pink vs the leopard print). Disappointing, especially since it was a gift. They are now in the process of getting it "exchanged" for the correct one. Again, quite disappointing that instead of the intended lovely gift, I now gave them a chore with a brand new baby in the home. Likely would not reorder or recommend your products related to this disappointing experience. When the contacted customer service they were told it was a distribution services fault & no effort to improve the whole experience. Would expect much more from a customer service experience for the cost of these products.
Dianne S.
Cedar Falls, Iowa, United States