Didymos Baby Woven Wrap Rainbow Lisca White
Didymos Baby Woven Wrap Rainbow Lisca White
Product Description
Description
Didymos Lisca White Rainbow

Didymos famous herringbone weave with rainbow warp and a white weft  - this is a thick, cozy wrap. It's also devastatingly beautiful and perfect for beginners and experienced wrappers alike. 

Details:
Colors: Rainbow warp, White weft
Material: 100% Organic Cotton
Re released : April 2021 * Fabric Weight 240 GSM

Released: June 7, 2016 Fabric Weight: 270 GSM

Age of little one: birth to as heavy as you can carry

How do you wash your Didymos woven wrap? Washing instructions
Shipping
In-stock orders ship within 72 business hours from our warehouse. You can choose Flat Rate or Carrier Calculated Shipping. Please note, there are delays with the first (initial) scan at all carriers due to COVID volume. We ship with USPS in United States. In Canada via Canada Post, Purolator, Canpar and UPS. Worldwide with Asendia or USPS. If you need your order faster - no problem! Please reach out and we can off Express and Priority Shipping Options. Outside of North America? You may be charged duties and/or customs fees.
Customer Reviews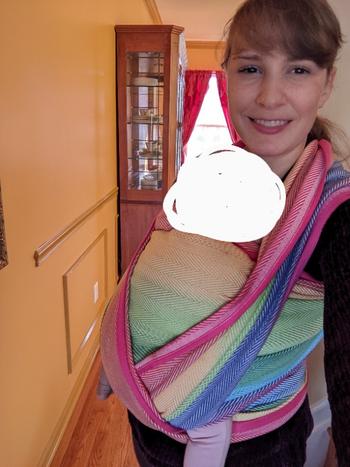 01/24/2022
I recommend this product
Beautiful and supportive
Before getting this wrap, I was using a cheaper brand wrap of much lower quality. After wearing this one for about half an hour, I noticed my baby felt much lighter than she had felt in the previous wrap! I'm able to wear her comfortably without any discomfort. The colors are also absolutely gorgeous! I can't stop looking at it. Allie's customer service was wonderful too. She was so quick to answer questions via email.
Brittany

United States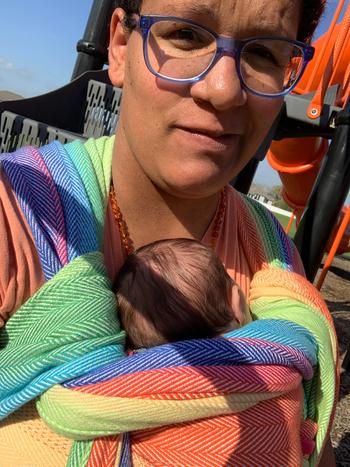 10/22/2020
So cuddly!
Oh rainbow Lisca, she's bright, cuddly, and pure newborn perfection. She's super easy to wrap with, and as a beginner I had no issues the first time I wrapped with her. I even wore her when it was about 75 degrees out and I didn't even feel hot. I'd highly recommend rainbow Lisca to every rainbow lover!!
Miranda H.
Oak Grove, Missouri, United States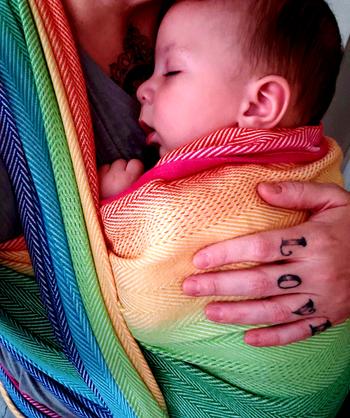 07/13/2020
Absolutely phenomenal customer service!
I love Allie, Little Zen One, and the entire LZO community so much! I am truly blown away by the amazing customer service and support. I couldn't have imagined that a stretchy wrap would lead me to discover woven wraps, leading me to find Little Zen One and purchase my first woven wrap (Didymos rainbow lisca white, an absolute dream), and find this amazing supportive community. Thank you Allie!
Charise F.
Tyler, Texas, United States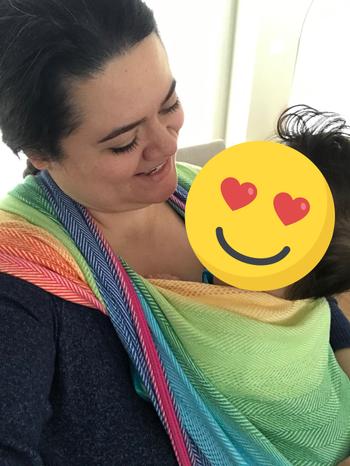 05/24/2020
Soft and beautiful
This wrap is beautiful with the light rainbow Lisca pattern! It's super soft straight away and very comfy.
Alesha
Lincoln, Nebraska, United States
08/17/2020
Soft and comfy from the start
Love this wrap. I wanted something that was soft from the start and this is it. Allie helped me pick this out and I could not be happier. It is a beautiful wrap with vibrant colors.
Kathryn R.
Pacific Grove, California, United States
03/29/2020
Lisca white rainbow
The colours of this wrap are just beautiful! It wraps like a dream. Providing softness, cush, and just enough stretch. It's medium thick, easy to tighten and adjust, and very comfortable to wear on the shoulders. It is my go-to wrap for wrapping my newborn twins. It's full of sleepy dust! Wrap naps are guaranteed.
Gina E.
St. John's, Newfoundland and Labrador, Canada
12/17/2017
5 Stars for the perfect wrap and customer service!
This is my very first woven wrap and I am so in love with it. Not only am I so incredibly happy with the quality and comfort of this wrap, but I have found the overall experience of becoming a Little Zen One client to be so wonderful. I am loyal for life! I used the live chat option to ask Allie (who I originally thought was going to be some random shop employee) advice on choosing a wrap and size. She had a very warm and thoughtful discussion with me and encouraged me to get a wrap that I was absolutely in love with after I told her I wanted to the rainbow wrap for my rainbow baby. I also ended up in Toronto as a surprise and scheduled an in person consultation to practice with my new wrap. Little Zen One is such a wonderful family owned and operated business. Oh, and back to the wrap...I am was used to SSCs, and was very pleasantly surprised with how comfortable this is. I found it to be more comfortable and feel significantly more secure than my SSC (which may be obvious to experience users). The cotton is so soft and supportive and I am so impressed with how easy it is to wash and care for. Once I worked through the slight learning curve of a woven wrap, I also find it easier to use as well. I am sold on Didy wraps and LZO. Also, my boy loves the vibrant colors of the wrap.
Jennifer S.
Bad Axe, Michigan, United States