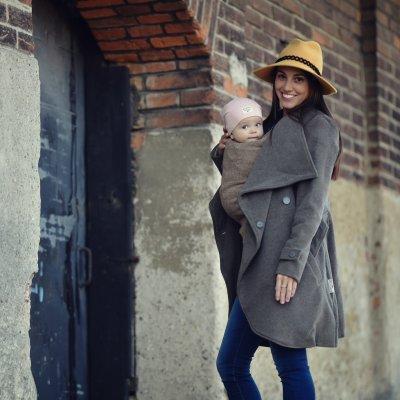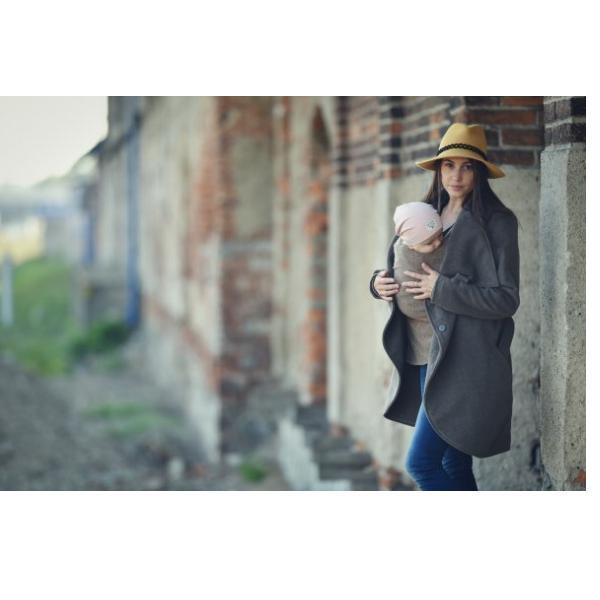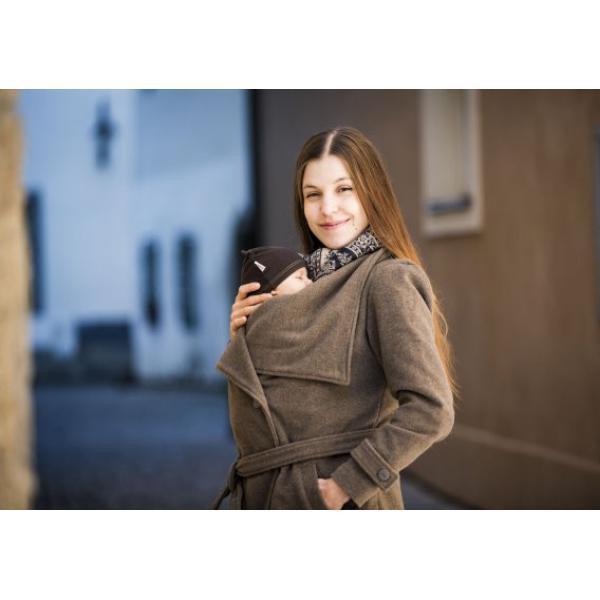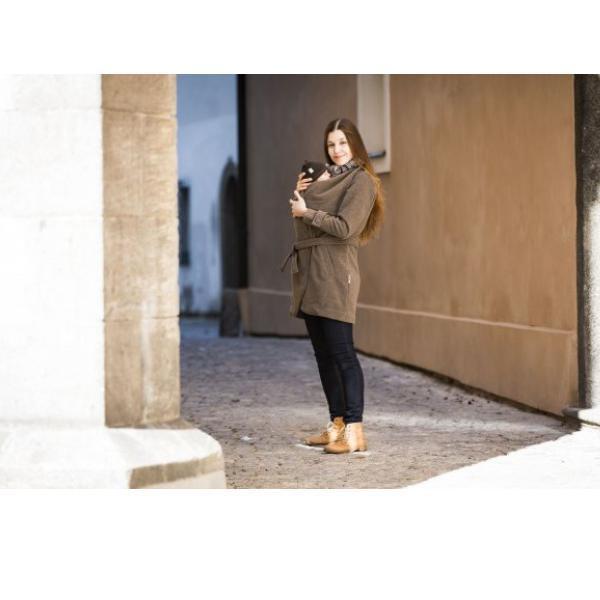 Angel Wings Babywearing Wool Coat
Angel Wings Babywearing Woolen Coat. Beautiful and elegant choice for those of you who love wearing skirts, skinny jeans or leggings - it will wonderfully complete your sporty-elegant style.

Our wool coat has been designed for parents who carry their children in a wrap, sling or ergonomic carrier, and in elegance and versatility in mind. This coat, along with all our products, is suitable for front and back carries as well as for pregnant women. Back to work, having a date or a girls' night out? Wear it without your baby! Nobody will guess the original purpose of this coat, plus you will be a star. Guaranteed!

The coat has a wrap front with a very smart buttoning system implemented to it. Two inner buttons are sewn permanently and are used for a shape support. The outer buttons are a NOVELTY - Czech innovative solution from Cnoffs company. Thanks to their "pin and screw" system, the BUTTONS CAN BE MOVED EXACTLY WHERE YOU NEED THEM be, making the coat perfectly adjustable to your current need. The coat can be tightened with the use of a belt, which can be tied at the front or back - whatever you prefer.

You will receive the coat nicely folded and set for a "without baby" wear. Before you put the coat on with your baby, we suggest you to find the right place for your pen a screw buttons to assure a perfect fit, and to achieve the best look.

We made a short instructional video . A "how to" manual will be included in your package. Do not worry, it is simple and intuitive!

The same buttoning system can be found on the sleeves. You can also adjust them according to your preferences.

The wool is very adaptable material with natural thermoregulating properties - warms you up when cooler outside and keeps you cool when the temperature rises. It is also resistant to gentle rain. You will remain dry in winter and snow, but the coat is neither wind- nor waterproof.

Material:

Outer fabric: top quality composition of: 80% Wool, 20% Polyamide. This mix features perfect warming qualities of wool and shape durability without pilling and lint.

Lining: High class Jacquard 55% Polyester, 45% Viscose

Buttons on the coat are put in places that children cannot normally reach. However, we know what our little ones are capable of, therefore DO NOT LET YOU CHILD/REN UNATTENDED, DO NOT ALLOW THEM TO PUT THE BUTTONS IN THEIR MOUTH DUE TO A CHOKING HAZARD.

The package includes:
- 1 babywearing insert for the back carry
- 1 baby hood (suitable for a sleeping baby)

Manufacturer: Angel wings clothing, Czech Republic

Maintenance:
We recommend dry cleaning and ironing at low temperature.
Angel Wings Babywearing Wool Coat