Bundle Package Upgrade
Product Description
Description
Upgrade one of the items in your bundle to a blend of silk/hemp/linen/etc.
Must be purchased in conjunction with a bundle that includes a woven wrap.
Shipping
In-stock orders ship within 72 business hours from our warehouse. You can choose Flat Rate or Carrier Calculated Shipping. Please note, there are delays with the first (initial) scan at all carriers due to COVID volume. We ship with USPS in United States. In Canada via Canada Post, Purolator, Canpar and UPS. Worldwide with Asendia or USPS. If you need your order faster - no problem! Please reach out and we can off Express and Priority Shipping Options. Outside of North America? You may be charged duties and/or customs fees.
Customer Reviews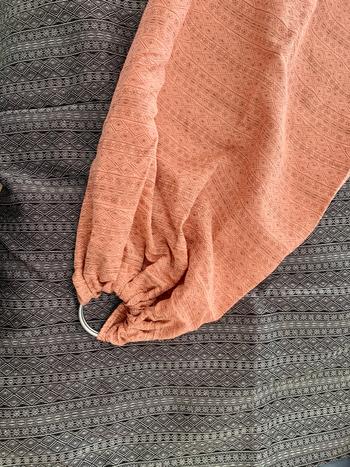 05/20/2021
Upgrade!
I'm in love with Silk wraps because they are light, airy and strong. So I upgraded both my RS and Wrap in the bundle. Allie matched me with a Tri Blemd of Hemp, Cotton and Silk which was true love! She also matched me with a Linen Blend RS that I love so much that I want to buy it in wrap form. If your hesitant to upgrade! Do it! As for care; I find it a lot easier than I expected.
Krystal C.
Victoria, British Columbia, Canada
08/23/2021
I recommend this product
Couldn't be happier!
I took a chance and ordered the DidySling and Woven Wrap bundle with an upgrade, not knowing what would arrive! Allie chose the neutral but intricate Toronto Lines pattern for our wrap and the vibrant Mystic Petrol 1975 for our blended ring sling. They already feel great and will only get better!
Robin C.

Canada
07/31/2021
Love it
I love the blend that I received! I have only ever bought 100% cotton, so it was a real treat find a hemp/cotton blend!
Stephanie

United States
06/16/2021
Beautiful linen blend woven wrap!
I'm so happy I upgraded my bundle package. I was looking for something that would keep me and my little one cool on summer walks, and we were sent a gorgeous thin linen/cotton blend woven wrap (Prima Blush Linen) that is perfect for our sunny day jaunts! It's gotten softer and softer as I've broken it in, and the price to upgrade is definitely fair for what I received. Really glad we did it!
Elise
Vancouver, British Columbia, Canada
05/04/2020
Worth the upgrade!
The upgrade price is fair for the beautiful fabrics I received! I recommend if there is a certain fabric blend that you are looking for in a wrap.
Kristan
Hiawassee, Georgia, United States
04/23/2020
Great customer service
Allie picked out great options for my bundle! I'm very happy with the customer service and the wraps she chose! Ludwig didyklick and Marta Rosewood in a size 2!