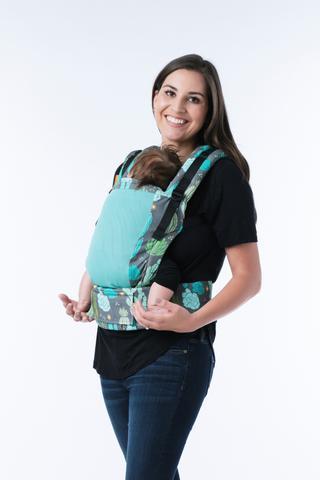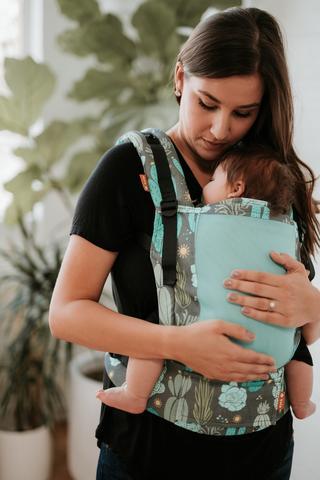 Coast Cacti Tula Standard Baby Carrier
Tula Standard Baby Carrier Coast Cacti. One of our most popular prints, Coast Cacti has a print of dreamy desert scenes and sunbursts. A pop of color is added with aqua mesh in the center panel, creating the perfect carrier for your sunny day activities.
Tula Coast is designed to bring a cool ocean breeze to your day! This line of Tula Standard Carriers offers a reinterpretation of our original framed panel design using breathable mesh material which creates a ventilated carrier perfectly suited for active lifestyles and warm weather locales.

MESH BABY CARRIER FEATURES:

1. ERGONOMIC M-POSITION SEAT
Supports safe development for baby's body

2. DUAL-ADJUSTMENT PADDED SHOULDER STRAPS
Provides optimal neck & shoulder comfort and offers quick and easy adjustments for multiple wearers

3. BREATHABLE & LIGHTWEIGHT CANVAS
Hand-made from 100% OEKO-TEX® Standard 100 certified canvas

4. MESH PANEL
Provides ventilation for optimal breathability

5. MULTIPLE ERGONOMIC POSITIONS
Back carry and front carry options to provide a natural, ergonomic position best for long term, comfortable carrying that promotes healthy hip and spine development for baby

6. WIDE PADDED WAISTBAND
Provides superior comfort to help evenly distribute weight, also includes large front pocket

7. EXTRA LEG PADDING
Keeps baby comfortable to allow for longer wearing

8. EASY-TO-ADJUST DESIGN
Allows for long-time use from infancy to toddlerhood. Standard baby carriers can be used from 15 - 45 pounds and toddler carriers from 25 - 60 pounds. Standard-sized carriers can be used from birth with a Tula Infant Insert*

9. COORDINATING BASE & HOOD
Coordinating canvas base with coordinating removable hood in breathable mesh fabric to support head while sleeping, sun protection while out and about, and extra privacy while nursing

*Infants and newborns weighing 7 - 15 pounds must use the Baby Tula Infant Insert (sold separately). Infants more than 15 pounds must continue using the Baby Tula Infant Insert with the Standard Tula Baby Carrier until the baby can hold head up consistently for an extended period of time, and is tall enough to be placed in a fully seated position with knees dangling freely with knees below bottom in an ergonomic M-shape position.

BABY CARRIER PRODUCT MEASUREMENTS:
Panel Measures 15.5" tall and 15" wide at the seat.
Hip Belt Measures 5" tall and 27" wide. Additional webbing extends approximately 30" (waistband total of ~ 57" long).
Weight of the carrier: 2 lbs.
Coast Cacti Tula Standard Baby Carrier