Didymos Baby Woven Wrap Aomi hemp
Didymos Baby Woven Wrap Aomi hemp
Product Description
Description
Didymos Aomi hemp. Aomi - the name for two new models with a striking array of gradating blues. Both were first presented in Japan. So Didymos called them Aomi – Japanese for "blue sea". Aomi is available in a cotton as well as in a cotton/hemp version.
The Aomi Hemp version combines the cotton warp of gradating blues with hemp in blue – this is Aomi – the ever-changing blue shades of the sea.

Details
Material: 65 % Organic Cotton, 35 % Hemp
Colour: Shades of Blue
Fabric Weight: 210 GSM
Washable: Up to 60°C, Gentle Cycle, Slow Spin Speed 
Age of child: From Birth to As long as You can Carry
Different Edges: Yes 
Released: June 4, 2019


All dyes are non toxic and are free from any harmful substances
Robust and tear-proof, it is a more lightweight wrap, ideal for babywearing during the warmer season
The fabric provides perfect support in width and length
Inherent diagonal stretch gives this wrap perfect wrapping qualities and allows for precise and comfortable tying of all carries whether worn in front, on the back or on the hip
Hemp fabrics are strong, break in beautifully and get soft and mouldable
Hemp has temperature and moisture regulating properties, hemp textiles are breathable and very skin-friendly
Hemp is one of the most environmentally friendly fabrics currently available - the plant is naturally resistant to pests and growth requires little water, it does not require the use of any insecticide or pesticide.


How do you wash your Didymos woven wrap? Washing instructions

Shipping
In-stock orders ship within 72 business hours from our warehouse. You can choose Flat Rate or Carrier Calculated Shipping. Please note, there are delays with the first (initial) scan at all carriers due to COVID volume. We ship with USPS in United States. In Canada via Canada Post, Purolator, Canpar and UPS. Worldwide with Asendia or USPS. If you need your order faster - no problem! Please reach out and we can off Express and Priority Shipping Options. Outside of North America? You may be charged duties and/or customs fees.
Customer Reviews
03/13/2021
Love this wrap!
This wrap is amazing it's super supportive, and has all the sleepy dust! It was comfy and supportive for my 5 & 3 year old and cozy for my munchkin!
Amanda
Hayden, Idaho, United States
01/05/2021
Didn't think I'd love hemp!
This came to me as a try before you buy wrap and I was skeptical. When I first tried it, it was still crunchy and I was kinda meh about it. Then as I used it more (even after only 3 wrapping sessions) it started to get soft and the color really started growing on me. It is lighter and thinner than my 100% cotton wrap, and I find myself reaching for it every time I want to wrap my squish. It tightens easily which is great for my beginner skills. Ohhhhh how badly I want to buy this beauty! My hubs may **** me but I may do it anyway! I'd love to get my toddler in it to see if it hold up to her weight, but so far she has refused.
Kristin O.
West Chester, Pennsylvania, United States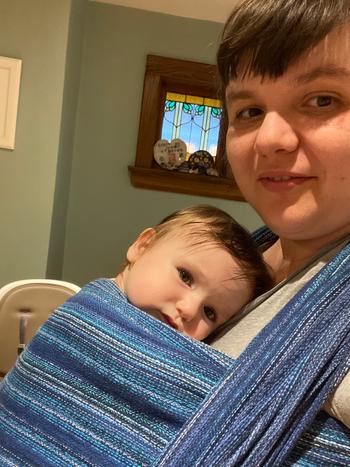 06/24/2020
Love this wrap!
This is our new favourite wrap! It was stiff and scratchy out of the box, but so much nicer after one wash, and soft and floppy after just a few wears. It's light and airy, but very supportive. Thank you Allie for recommending it!
Anca
Mississauga, Ontario, Canada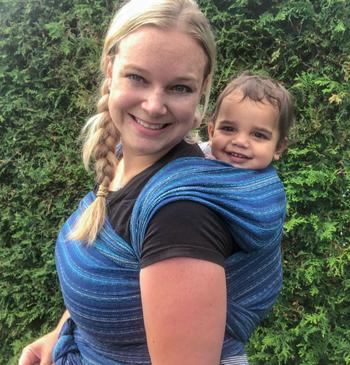 07/11/2019
Toddler Trap Beauty!
The colours and weave of Aomi hemp are unlike any other! It is so aesthetically beautiful and different from many other Didymos wraps. New out of the box, the wrap is quite stiff and crunchy, but that is not unexpected for new hemp fibers. It required a hot steam iron and several days of use before it was comfortable and floppy. This wrap is thin and so strong, has little to no bounce or sag. It is the perfect wrap for taming a fussy toddler in hot weather! And as always, the customer service at LZO is outstanding! Allie went out of her way to order a specific size and design for me :) Thank you again!
03/12/2021
Love it!
The colors are amazing and it's already softening up so easily after one wash and some wearing. So glad I got this!
Justine A.
Seaside, California, United States