Didymos Baby Woven Wrap Lisca Spice
Didymos Baby Woven Wrap Lisca Spice
Product Description
Description
Didymos Baby Woven Wrap Lisca Spice

A Little Zen One Exclusive

It's been awhile since our last exclusive - and this beauty is worth the wait.

Perfect neutral - earthy, a bit shiny, and just delicious!

Soft and snuggly for your little one.

Lisca Spice is a 100% cotton, medium-thick weight wrap. It is woven in shimmering copper as the warp and alternating white and grey.

Certain to be a crowd pleaser, this wrap is suitable for all little ones and skill levels. 

If you'd like to see the sister wrap, have a peek at Prima Terracotta.

DIdymos Liscas feature the classic, always popular herringbone style weave. Some describe Liscas as "marshmallow" soft, and we couldn't agree more!

Details:
Material: 100% Organic Cotton
Color: Copper, White, Grey
Fabric Weight: 220 GSM
Released: May 7, 2021


How do you wash your Didymos? Washing instruction
Shipping
In-stock orders ship within 72 business hours from our warehouse. You can choose Flat Rate or Carrier Calculated Shipping. Please note, there are delays with the first (initial) scan at all carriers due to COVID volume. We ship with USPS in United States. In Canada via Canada Post, Purolator, Canpar and UPS. Worldwide with Asendia or USPS. If you need your order faster - no problem! Please reach out and we can off Express and Priority Shipping Options. Outside of North America? You may be charged duties and/or customs fees.
Customer Reviews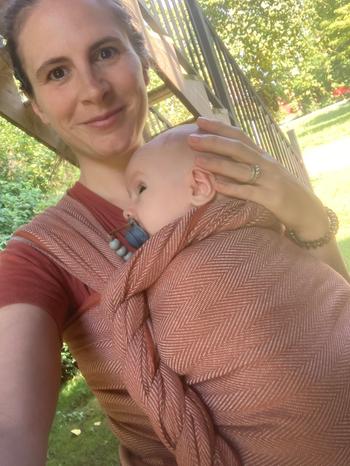 02/13/2022
I recommend this product
We love Lisca Spice
Lightweight and perfectly moldable, this woven is great for any range of wrapper! It's thin and airy so it works great it warm climates while also being able to bundle when it's colder out! Even my oldest daughters love Lisca Spice! You need this wrap in your home!
02/13/2022
I recommend this product
A lovely wrap
The color and wrap qualities of this sling are exceptional! It wraps beautifully after a quick wash and dry and continues to soften to be the perfect "fave t-shirt" kind of softness! Even my oldest daughters can wrap with lisca spice perfectly! It's lightweight as well, which makes it perfect for layering in colder climates where you need to bundle up!
01/08/2022
I recommend this product
This TBYB came to stay!
I signed up to try Lisca Spice in TBYB as soon as it was added. Liscas were never my favourite but I love copper and was drawn to the alternating weft colours. As soon as I wrapped with it, I understood all the fuss - this is seriously soft and amazingly cozy! In person, it's truly beautiful and it's easy to use. I've even used it as a scarf! There was no way I was letting this TBYB go - it came to stay for good.
Heather T.

Canada
09/30/2021
Sooo soft
I got to try this wrap through the tbyb program. The wrap is so soft and comfy. I loved it so much that I bought it from the tbyb program. The pattern is nice and the color is perfect for autumn.
Becka B.

United States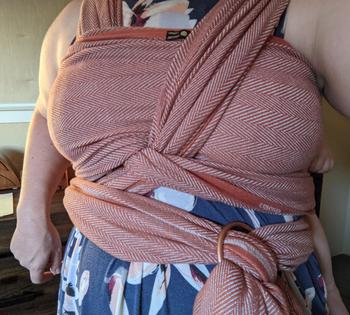 06/14/2021
Cushy and beautiful
This is my first Lisca wrap! It's so cushy and SO soft right out of the box. The colors are gorgeous. I love the warm copper/cinnamon color. It's an excellent warm neutral and so easy to wrap with. It's actually fairly thin and airy too. Perfect easy care, squish to toddler wrap.
Kim
Fair Oaks, California, United States
10/19/2021
I recommend this product
So so soft
I tried this as part of the Try Before You Buy program - it was delicious! Thin and easy to wrap with, and very snuggly, this was my favorite I've tried so far. The size I tried was too long for me, otherwise I would have kept it!
Karen H.

United States