Didymos Baby Woven Wrap Prima Moonset linen
Didymos Baby Woven Wrap Prima Moonset linen
Product Description
Description
Didymos Baby Woven Wrap Prima Moonset linen! Another Prima model woven to the special wishes of Italian babywearing groups who love the Prima weave and purple. Of medium weight, the double linen weft makes this a fabulously supportive woven wrap blend.

For the Moonset we blended this purple cotton warp with a double weft of anthracite linen. A great idea – out came a shimmering dark purple beauty. The shine off the linen makes the anthracite appear natural in these photos, but it is in fact Anthracite. 
Prima Moonset is as soft as all Prima wraps and a bit fluffy. It has a slightly grippy texture that is ideal for holding knots firmly in place yet the fabric glides smoothly for easy adjusting. Supportive and has perfect diagonal stretch to comfortably adapt to all ages and stages. It is an ideal allrounder at home or when you are out shopping or on long walks with the family.
60% Organic cotton, 40% Linen
Purple, Azure
250 GSM
Released: February 2018
The Prima is an iconic Didymos weave and a fan favourite. Having existed in different permutations since the 1970's this weave has withstood the test of time and passing trends. With their classic look to their airy weave, there is one for everyone. We find them easy to wrap with, soft after just one wash, and visually stunning. It's a personal favourite at Little Zen One, comprising a good deal of our stash.
Linen is a favorite at Little Zen One. Linen breaks in beautifully offering the utmost in support and shines both for infants and even preschoolers. The airy weave combined with linen's lightweight properties make this blend perfect. Like all Didymos wraps, they offer support in the width and length, but have nice diagonal stretch. 
How do you wash your Didymos? Washing instructions
Shipping
In-stock orders ship within 72 business hours from our warehouse. You can choose Flat Rate or Carrier Calculated Shipping. Please note, there are delays with the first (initial) scan at all carriers due to COVID volume. We ship with USPS in United States. In Canada via Canada Post, Purolator, Canpar and UPS. Worldwide with Asendia or USPS. If you need your order faster - no problem! Please reach out and we can off Express and Priority Shipping Options. Outside of North America? You may be charged duties and/or customs fees.
Customer Reviews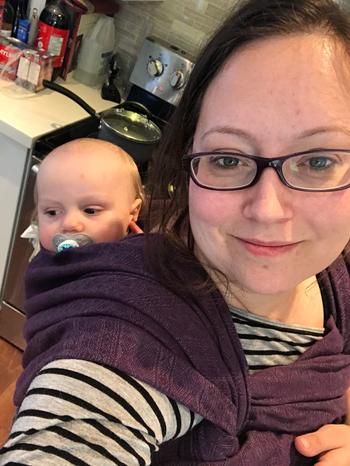 03/28/2018
If you love purple you need moonset
Moonset has such a beautifully vibrant dark purple. Pictures do not do it justice. You have to see this beauty in person to capture how gorgeous it is. The linen blend is soft and very supportive for my soon to be toddler.
Rebbecca R.
Woodstock, Ontario, Canada