Didymos Baby Woven Wrap Prima Grande
Didymos Baby Woven Wrap Prima Grande
Product Description
Description
Didymos Grande, a new, large scale! So soft, mouldable, and incredibly beautiful. Check out the review here
This is an iconic Didymos weave and a fan favourite. Having existed in different permutations since the 1970's this weave has withstood the test of time and passing trends. With their classic look and airy weave, there is one for everyone. We find them easy to wrap with, soft after just one wash, and visually stunning. It's a personal favourite at Little Zen One, comprising a good deal of our stash.
Like all Didymos wraps, they offer support in the width and length, but have nice diagonal stretch. 
100% Organic Cotton
Ecru, Anthracite
200 GSM
Released: October 16, 2015
 How do you wash your Didymos? Washing instructions
Shipping
In-stock orders ship within 72 business hours from our warehouse. You can choose Flat Rate or Carrier Calculated Shipping. Please note, there are delays with the first (initial) scan at all carriers due to COVID volume. We ship with USPS in United States. In Canada via Canada Post, Purolator, Canpar and UPS. Worldwide with Asendia or USPS. If you need your order faster - no problem! Please reach out and we can off Express and Priority Shipping Options. Outside of North America? You may be charged duties and/or customs fees.
Customer Reviews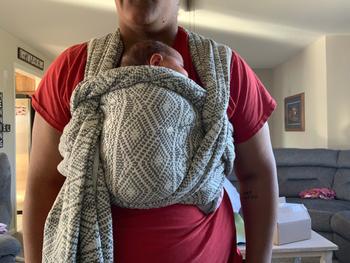 10/23/2020
Love love!
I got Grande in an 8 which is base +1 in the last LZO sale and I wasn't expecting anything special. This wrap instantly became love at first sight. It was so cuddly right out of the box and even more amazing after a wash and dry. It's the best newborn squishy wrap ever! I also love the neutral color of it! I love to wrap with it and we use it often!
Miranda H.
Oak Grove, Missouri, United States
09/07/2017
So comfy!
Compared to the ergo that I was using for my 3mo old. I felt like there was less pull on my shoulders, the weight felt more evenly distributed around my waist. She sits closer to my body which made moving around easier and felt lighter. I love it, thank you Allie for all your help!