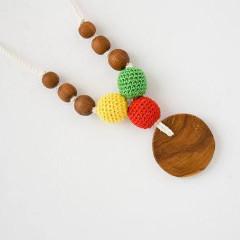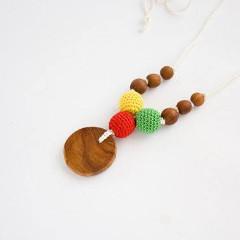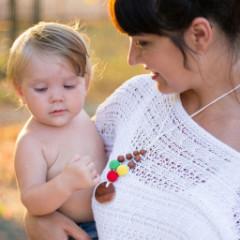 FrejaToys Petite Trio Nursing Necklace
Petite Trio Nursing Necklace in bright and cheerful colors is simple and very stylish!

♥ Breastfeeding and babywearing moms essential! ♥
The mum necklace catches your baby's attention while breastfeeding and stimulate your little one to look and explore, helps to evolve fine motor skills of your baby. The necklace is completely safe for baby to chew on and it could be used as a baby teether for your little one.  The nursing necklace is great for teething. Wood is the most natural thing a child can put in their mouth, free of chemicals and dyes found in plastic.  Our Petite Trio nursing necklace has a very organic feel.

ITEM DETAILS
♥ The necklace is completely safe for baby to chew on.
♥ Wooden pendant is hand carved and highly polished, smooth, no sharp edges.
♥ The covered beads and unfinished applewood beads are threaded onto a crochet cotton string.
♥ The beads are fixed on the string with knots.
♥ String can be adjusted to suit.
♥ Crocheted beads measure: 1,8 cm.
♥ Wood pendant measure: round pendant - approx. 3,5 cm in diameter,
oval pendant - height - 4 cm, width - 3,3 cm.
♥ Overall necklace length is 47" / 120 cm.

This nursing necklace is 100% natural. The wooden beads are covered with a 100% cotton thread. The wood we use (applewood or juniperwood) produced in the ecologically clean areas of the Carpathians and Crimea. All our products are manufactured in Ukraine (Eastern Europe). 
Materials: cotton thread, applewood, love
CARE INSTRUCTIONS:
Wash the necklace by hand with mild soap in warm water. Do not soak.
FrejaToys Petite Trio Nursing Necklace