Integra Baby Carrier Teal Texture Linen
Integra Baby Carrier Teal Texture Linen
Product Description
Description
Integra Baby Carrier Teal Texture Linen

Light, ergonomic design for optimal support and comfort for infant and carer. The outer is a lovely textured washed linen in pinky purple.
This sleek one-piece design incorporates a large sun/sleeping hood that fastens with small buckles to the shoulder straps to keep baby shaded or support a sleeping head.
Designed by Sarah Sadler, the Integra Baby is the must have essential for the style conscious parent. Sarah has worked in the baby carrying industry for over 11 years and is the longest practicing Babywearing Consultant in the UK.

Key Features of the Integra Baby

Soft waist to create a perfect fit every time.

Dual Adjustable buckles to ensure an easy close fit.

Easy to adjust to different sizes.

Front and back carry options.

Ergonomic Design, Optimal support and comfort for infant and carer.

Compact and machine washable.

Birth to Toddler and Safety tested

.
MATERIAL
Teal Texture Washed Linen Outer
Oeko Tex Black Cotton Straps and Inner

Made in the UK 

SIZING
Please see Size Guide linked above in blue
Shipping
In-stock orders ship within 72 business hours from our warehouse. You can choose Flat Rate or Carrier Calculated Shipping. Please note, there are delays with the first (initial) scan at all carriers due to COVID volume. We ship with USPS in United States. In Canada via Canada Post, Purolator, Canpar and UPS. Worldwide with Asendia or USPS. If you need your order faster - no problem! Please reach out and we can off Express and Priority Shipping Options. Outside of North America? You may be charged duties and/or customs fees.
Customer Reviews
01/22/2022
I recommend this product
So light weight and beautiful color!
I purchased a size 2 and I love how light weight and portable it is. My toddler loves how it feels too! The straps are a little diggy for a back carry but it you cross them in the front it's much more comfy. The rust color is gorgeous!!
Heather

United States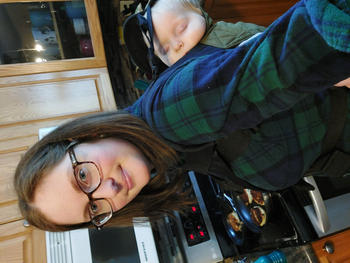 01/08/2022
I recommend this product
Gorgeous, light, supportive
This carrier is amazingly supportive for something that is so light and compact. Super easy to use - there is a learning curve for optimal comfort, but you can get it decently comfy with minimal effort. Beautiful colour and texture - a piece you're happy to show off.
Heather T.

Canada
12/19/2021
I recommend this product
TBYB
Fairly new to the baby wearing world, so I was so happy to have the opportunity to try this carrier. It is such a nice colour and fabric. Super lightweight but durable. It folds up super compact which is nice too. I'm not sure if it's right for my body though and in the end did not end up keeping it. The cross straps didn't quite stay put, but worked really well for my sister! Even when they were riding up, it wasn't uncomfortable from the fabric rubbing, just improper weight distribution. I also had a hard time putting the carrier on in the Costco parking lot trying to keep the straps from touching it he wet ground. Maybe that's just me and I was missing something haha. Overall it's a really wonderful carrier and I would recommend it (my sister wanted me to keep it for her to use!)
Brianna L.

Canada
05/03/2021
Integra Rust Review
Overall, I like this carrier. I like how lightweight it is and how little space it takes up. I also like the color and the feel of the fabric. The padded straps are nice as well. The only thing that I don't love is tightening. It is hard to get the straps buckled, and even harder to tighten them because of the angle of the clips and straps. I am going to keep working on how to prevent teh straps from creeping, but I find it a bit tricky to be honest.
Kristin O.
Havertown, Pennsylvania, United States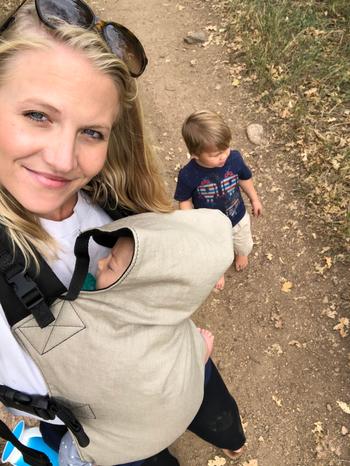 09/24/2020
LOVE LOVE LOVE.
I can't wait any longer to review this. We just LOVE it. I shouldn't have wasted time with other brands. This is the best of all worlds. Love the classic linen (stone is actually more earthy in real life, making it a perfect warm brown/grey neural). It folds up super small because of its unstructured design, making it great for traveling. The shoulder straps are criss cross which I now find more comfortable than the other style with a strap between the shoulder blades. The apron style helps keep baby high without adding extra pressure on your abdomen, waist, or pelvic floor. The hood can calm and put to sleep an overtire and overstimulated baby really fast. Even the buckles are quiet. The only problem I have with this carrier is that I love it so much I already want another.
Katja L.
Colorado Springs, Colorado, United States
01/01/2022
I recommend this product
Rust linen
Is such a beautiful color. We tried this in the TBYB program. I use wraps mostly so this was for my husband. He loved the ease of this carrier, and all the snuggles he got while using it. The linen is soft and adds a nice touch to this carrier.
Ashley

United States
02/27/2021
Exactly what I was looking for!
Have not used yet (baby is not yet born) but this carrier is lightweight, compact, and seems like it will be both easy to use and durable. I didn't think I'd like how bulky some of the more popular structured carriers on the market were, and this seems much simpler without compromising much on comfort. the colour is much more of a brownish grey than a cool grey, but I like it. Little zen one shipped out very promptly - would definitely purchase from them again.
Lauren
Cambridge, Ontario, Canada
01/17/2021
Love the Linen!
Another great product and service from LZO! I already owned and Integra, but I was drawn to the Linen one. It is very soft and beautiful and just as supportive and comfortable as my print version. I'd recommend Integra to anyone wanting a similar and comfortable SSC, and LZO definitely has the best selection and prices. I'm in Australia but LZO still the most affordable option even when you add shipping. Thanks, Allie :)
Elizabeth
Adelaide, South Australia, Australia