Vanamo Kide Naava linen wool
Vanamo Kide Naava linen wool
Product Description
Description
Vanamo Kide Naava for those everyday, neutral wrap lovers. Woven in a supportive tri-blend of linen, wool, and organic cotton.
Vanamo's stunning Kide range combines intricate geometric designs with restrained neutrals and bold jewel colours, for an almost vintage feel. With a weave that is flat yet beautifully textured, reminiscent of Didymos' Old Standard or Indios, they offer solid support along with breathability. Available in all cotton, cotton/linen, and cotton/linen/wool blends.
30% linen, 30% merino wool and 40 % GOTS certified organic cotton
Blue, Grey, White
251 GSM loomstate / 281 GSM postwash

Woven at a small weaving mill in Finland.
Shipping
In-stock orders ship within 72 business hours from our warehouse. You can choose Flat Rate or Carrier Calculated Shipping. Please note, there are delays with the first (initial) scan at all carriers due to COVID volume. We ship with USPS in United States. In Canada via Canada Post, Purolator, Canpar and UPS. Worldwide with Asendia or USPS. If you need your order faster - no problem! Please reach out and we can off Express and Priority Shipping Options. Outside of North America? You may be charged duties and/or customs fees.
Customer Reviews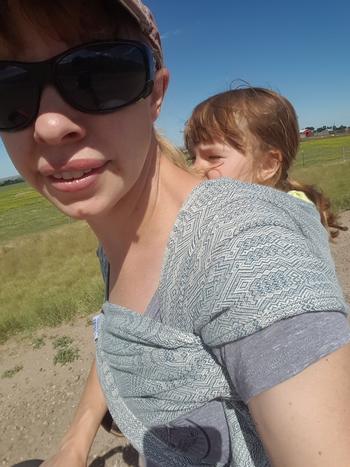 07/12/2017
Bounce of wool, strength of linen
This has been my favorite vanamo thus far! It was scratchy to begin with but broke in quickly with my favorite attributes of wool and linen, along with that airy Kide weave. The colors are beautiful and hard to captivate on camera.
08/26/2017
Vanamo Naava
I purchased a Vanamo Naava in a base +1 from LZOs Summer Sale. Naava was my first Vanamo and it has made me fall completely in love with the brand. I was concerned when I first ordered that the colour of Naava would be too bland for my liking, but I was very pleasantly surprised at the pretty blue in the wrap--it's difficult to capture in pictures! It's a very classy wrap. This triblend is so breathable and supportive, I would highly recommend it
Dee
Flaxcombe, Saskatchewan, Canada
05/11/2017
Parfaite echarpe
Une echarpe surprenante que jadore. Un couo casser elle est merveilleuse. Autant pour une mini quun toddler