Vanamo Woven Wrap Kide Routa linen wool
Vanamo Woven Wrap Kide Routa linen wool
Product Description
Description
Vanamo Woven Wrap Kide Routa linen wool
A deep, rich, and stunning tri-blend in a magical blend of fluffy natural merino wool, high qualityEuropean linen, and soft organic cotton. This is a thicker blend, best for heavier babes and toddlers.
Vanamo's stunning Kide range combines intricate geometric designs with restrained neutrals and bold jewel colours, for an almost vintage feel. With a weave that is flat yet beautifully textured, reminiscent of Didymos' Old Standard or Primas, they offer solid support along with breathability. Available in all cotton, cotton/linen, and cotton/linen/wool blends.
Details:
Material: 40 % German organic cotton (GOTS), 30 % Italian linen (Master's of Linen). 30 % German merino wool (Superwash)
Color: Blue, Grey, Black
Fabric Weight: 251 GSM loom state / 281 GSM post wash 
Designed, Woven and sewn in Finland.

Vanamo baby wraps are ecological and ethically produced in Finland from pure natural materials. Because of our special weaving technique Vanamo wraps are soft, moldable and strong. You can comfortably carry the baby from birth to toddler ages.


The cotton-linen-wool blend combines all the good qualities of linen and wool. Linen gives strength and great support - wool makes the wrap soft & fluffy. Vanamo wrap is diagonally elastic and moldable. The special weaving gives optimum support for the baby as well as the parent. Linen and wool are breathable & thermoregulating materials. This wrap works great in hot and humid climates. And it feels equally comforting in the chilly autumn and winter days. Vanamo tri-blends are great wraps for heavy babies and toddlers. A new wrap can feel a little stiff at first but the fabric will soften up quite quickly when you start using it. Wash and iron with plenty of steam and the wrap will fluff up considerably.
 
Shipping
In-stock orders ship within 72 business hours from our warehouse. You can choose Flat Rate or Carrier Calculated Shipping. Please note, there are delays with the first (initial) scan at all carriers due to COVID volume. We ship with USPS in United States. In Canada via Canada Post, Purolator, Canpar and UPS. Worldwide with Asendia or USPS. If you need your order faster - no problem! Please reach out and we can off Express and Priority Shipping Options. Outside of North America? You may be charged duties and/or customs fees.
Customer Reviews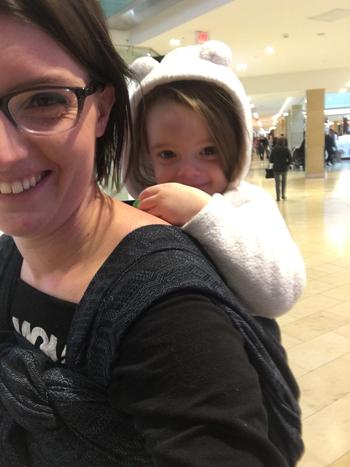 12/10/2017
Routa
I can't say enough how much I love this wrap. The wool provides the the perfect amount of cushion and the linen makes even the sloppiest wrap job feel rock solid. The colours are deep and beautiful and it has a shine to it they I love.
Holly C.
Brantford, Ontario, Canada
04/04/2017
4 star
Takes some love to break in, but once you do you will not be disappointed. My go-to for toddler but still soft enough for my baby. Light on the shoulders and easy to wrap with. The perfect balance of glide and bounce. Medium thickness but airy weave makes it a great wrap for all seasons.