Belly Bedaine Kiroo Babywearing Sweater Grey and Black
Belly Bedaine Kiroo Babywearing Sweater Grey and Black
Product Description
Description
Belly Bedaine Kiroo Babywearing Sweater. The Kiroo sweater is longer than the Kangaroo. It is useful during maternity and for carrying in cooler weather, or under their coat. It simply slides over the baby carrier. Can be worn with baby in front or behind. 
A side zipper makes it easy to get it on and off. You can use it for front and back carries. Available from XS to 4XL. 
Proudly designed and manufactured in Quebec, Canada
Made of PDR (Ponte de Roma) a knitted jersey knitted fabric
71% Polyester 27% Rayon 2% Spandex

(Important to note that this is not a baby carrier)

CLICK HERE FOR THE SIZE GUIDE

Shipping
In-stock orders ship within 72 business hours from our warehouse. You can choose Flat Rate or Carrier Calculated Shipping. Please note, there are delays with the first (initial) scan at all carriers due to COVID volume. We ship with USPS in United States. In Canada via Canada Post, Purolator, Canpar and UPS. Worldwide with Asendia or USPS. If you need your order faster - no problem! Please reach out and we can off Express and Priority Shipping Options. Outside of North America? You may be charged duties and/or customs fees.
Customer Reviews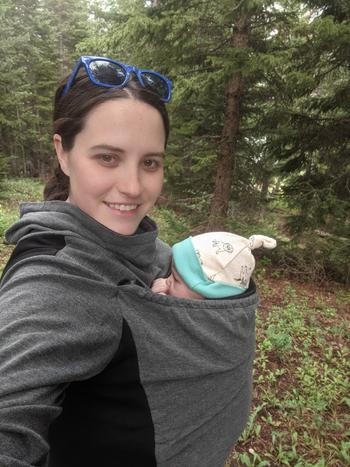 09/22/2021
Very comfortable
I purchased this for our summer camping trips. It was very comfortable and easy to use. The only thing I would caution on is that it can run a bit tight. I purchased a medium like my normal sweaters and it was tight to put my newborn on with a Tula carrier. I couldn't fit my toddler in even with a thinner carrier (Integra). Size up if you can.
Becka B.

United States
06/16/2021
Works well
I got the chance to use the sweater over this past weekend while camping. It is easy enough to put on and fits around my Tula carrier easily. The hole where the baby's head goes is big, I struggled a little to cinch the opening to cover my newborn's head a little more. I think that it will be easier in time. I like that I can use it for front or back carry since my toddler still gets carried. I also like the side zipper and large side pocket. The only thing I would mark down on is that it is not true to size. I had to size up and the large is still tight.
Bex
Hayden, Colorado, United States
05/26/2021
Perfect for cooler weather
I love my sweater so much, it makes me feel so close to my baby while we are baby wearing. It's often windy at my house so it's nice knowing that I can have him outside with us while staying warm. I look forward to using it for our early fall hikes this year as well! It won't be great for Wisconsin winters so we will have to find something warmer for then, but for now it is perfect! It is a lot easier to use than I anticipated as well, just put it over us, zip it up and we're ready to go!
Faith L.
Eau Claire, Wisconsin, United States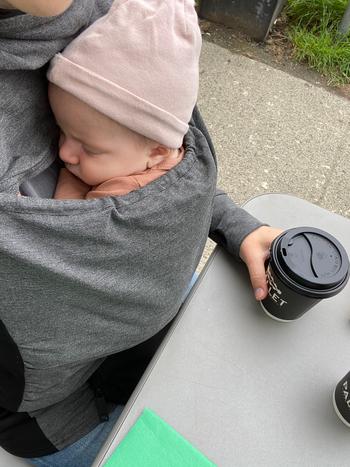 05/07/2021
Perfect!
I had been eyeing various babywearing sweaters for a while and decided to give this one a try and am so glad I did - love the side zipper which makes putting on and taking off easy as well as there being no zippers near baby's face or panels to keep track of. The best surprise - super handy pockets! The length is also perfect with leggings
CF
Vancouver, British Columbia, Canada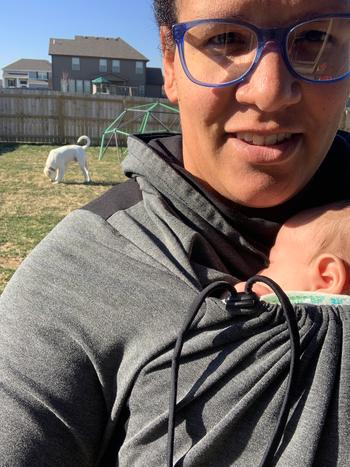 12/14/2020
Perfect jacket!
I loved my teal Kiroo so much I got one in grey! It's such a comfy babywearing jacket. Nice and stretchy and easily adjusted. You can also wear it backwards and back carry! Love this jacket, great option for climates that don't go below 0. Would make a great base layer for the super cold!!
Miranda H.
Olathe, Kansas, United States
12/24/2019
Great Babywearing Sweater
A great babywearing sweater—comfy, easy to put on, and true to size. Fit well with both a one-month and two-year-old. Great on its own, or as a layering piece for colder weather.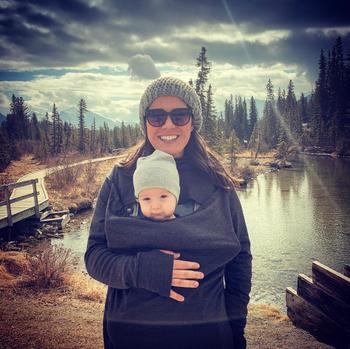 04/02/2019
Love love love
Me and my babe Jasper LOVE this sweater. I only hate that I didn't have it with my first two babes. It's cozy, comfy, flattering and so functional. I will be sad when he gets too big to be worn with this.
Tiffany
Red Deer, Alberta, Canada
05/04/2020
Beautiful baby wearing sweater shirt
Love this! The material is kind of like active wear. It is very flattering. I would baby size up one if you want it to be roomy. Warm and cute!
Terra G.
Traverse City, Michigan, United States