Didymos Baby Woven Wrap Rainbow Lisca
Didymos Baby Woven Wrap Rainbow Lisca
Product Description
Description
Didymos Rainbow Lisca. A bright, saturated rainbow with an anthracite weft. A medium wrap, great for beginners and experts alike, snuggly and blankety. 
Rainbow warp, Anthracite weft
100% Organic Cotton
250 GSM

How do you wash your Didymos woven wrap? Washing instructions
Shipping
In-stock orders ship within 72 business hours from our warehouse. You can choose Flat Rate or Carrier Calculated Shipping. Please note, there are delays with the first (initial) scan at all carriers due to COVID volume. We ship with USPS in United States. In Canada via Canada Post, Purolator, Canpar and UPS. Worldwide with Asendia or USPS. If you need your order faster - no problem! Please reach out and we can off Express and Priority Shipping Options. Outside of North America? You may be charged duties and/or customs fees.
Customer Reviews
01/26/2021
Rainbow Lisca
I didn't really appreciate this wrap as much as I should have when I bought it with my first. It was my first wrap and I used it a ton with a very fussy baby. Who later turned out to have autism. I wore him all the time and it was a life saver. I alternated from a very expensive carrier to the wrap. Now with baby number 2; the structured carrier from a different company died on me. The wrap still persists and is amazing. I can go for long walks with it. I had purchased another wrap by a different reputable company and it does not compare to the Diddy. The Diddy is just so amazing. I constantly get compliments on it. What's really nice about a rainbow is it can look blue/ green one day and Orange/Pink the next ;). Depending on mood :) Now I'm looking at other Diddy carriers on here and I'm really enjoying reading the reviews. So here's some younger photos of me with my first.
Krystal
Victoria, British Columbia, Canada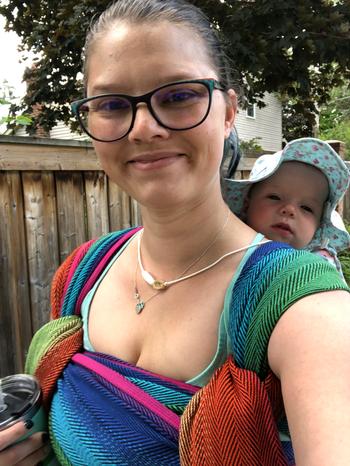 06/28/2020
The best most squishy comfortable wrap EVER
This is by far my favourite wrap. It looks GORGEOUS with any outfit, people stop to look at it and it is comfortable in any carry. It is also by far the easiest wrap to work with that I've tried. It was soft and perfect right out of the box, no breaking in necessary.
05/19/2020
Gorgeous!!
My first lisca and first shorty: I'm in LOVE!! The rainbow gradient is perfect and I love the herringbone pattern. It had just the right amount of glide vs grip for a great sling carry.
JD
Madison, Mississippi, United States
03/10/2018
Even better in person!
This wrap is gorgeous and I can't wait to break it in with my new squish
Rachel
New Orleans, Louisiana, United States
01/25/2018
Gorgeous!!
Beautiful colours, great quality material, and washes beautifully.
Abby
Vancouver, British Columbia, Canada
12/14/2017
A pleasure to use
Bought this in a 7 for my husband as a learning wrap when he took over parental leave. He has learned so quickly as it is easy to track strand by strand tightening work with and I am using it to work on new carries too. I was worried this weave wouldn't be super supportive of our 22lb 7mo but it is great in a base/base+ size.