Angel Wings Babywearing Winter Coat Burgundy
Angel Wings Babywearing Winter Coat Burgundy
Product Description
Description
Angel Wings Winter Babywearing Coat Burgundy. 

This superb winter babywearing coat is filled with thermo fleece material and is water resistant and windproof. The coat can be comfortably worn with your baby on your front, back, or on it's own with no insert You can also carry one child on the front, and one on the back using two inserts. Filled with TENCEL®,  this warm Angel Wings winter coat is designed for those babywearing in cold weather!
Included:
2x Babywearing inserts – one smaller for babies, one bigger for toddlers/preschoolers – either of them can be inserted in either the front or the rear zipper – very convenient for tandem Babywearing.
1x child hood (perfect for a sleeping baby)
1x neck piece

Manufacturer: Angel wings, Czech Republic
 Material composition:
Top fabric - 65% Polyester, 33% Nylon, 4% Elastane
Lining - 100% Polyester

Maintenance:
Wash cold (up to 30°C) with like colors
Do not tumble dry
Do not bleach
Chemical cleaning YES
Do not use fabric softener
We recommend using detergents designed for washing of functional textiles
*Please note, that Angel wings Winter coat IS NOT a baby carrier nor a sling or a wrap. It has been designed to be worn over a baby carrier, or a wrap to protect your baby from weather conditions. The pouch itself CANNOT be used as a baby carrier, a sling or a wrap.
Shipping
In-stock orders ship within 72 business hours from our warehouse. You can choose Flat Rate or Carrier Calculated Shipping. Please note, there are delays with the first (initial) scan at all carriers due to COVID volume. We ship with USPS in United States. In Canada via Canada Post, Purolator, Canpar and UPS. Worldwide with Asendia or USPS. If you need your order faster - no problem! Please reach out and we can off Express and Priority Shipping Options. Outside of North America? You may be charged duties and/or customs fees.
Customer Reviews
02/11/2022
I recommend this product
Very warm
This coat is wonderful. It's so warm and cozy and I love that it comes with two inserts (a large and a small) to be able to tandem carry. I got the medium, my normal size, and the shoulders are a little tight, so I would make sure you measure your shoulders!
Becka

United States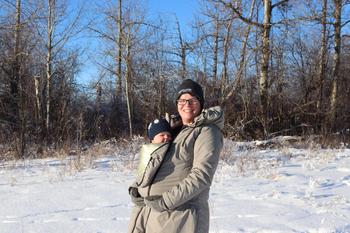 12/26/2019
Winter coat
I love my new coat. The arms were long but I was warned by other reviews. I ordered it around Christmas and it still shipped so quickly and even had a hand written "thank you" note. The coat is very warm and the material is great quality.
12/18/2019
I love this coat
Looks absolutely stunning on, while babywearing or not! Was a great suggestion from Allie. I have gotten compliments while out and it feels incredibly comfortable.
12/09/2019
This coat was exactly what I needed for babywearing in the winter and Allie and her team were very friendly and helpful. So glad to have this coat!
12/05/2019
AW Babywearing Winter Coat
I'm in love with my new coat !! The color is a beautifull stuning blue, si easy to use! Wonderfull customer service Now I need a hoodie to fit my coat!!
Melanie G.
Sainte-Therese, Quebec, Canada
09/12/2019
Angel Wings Baby Wearing Coat - beautiful!
I purchased this coat for my daughter whose first baby is due in November. She is thrilled, the fit is perfect, as per your chart and it is apparent that the coat will be worn for much more than baby wearing. We both admire the detail, quality and practicality of this handsome coat.
Patricia
Belleville, Ontario, Canada
12/06/2018
Angel wings
Overall I'm happy with it. I like : Very hot, I was good at - 15C Comfortable Mom's hood protects well against the cold and wind Big pockets (love them) The neck piece is functional I don't like : The zipper for the next piece is too small, it is hard to maneuver. It also often gets caught in the coat fabric. Ugh. Makes me swarm half of the time. No way to adequately protect baby against the wind or snow. His head is completely exposed. I had to come up with a scarf system on windy days, but he doesn't see anything. There should be a hood like the mom's for babies. I need to wear super high for baby's head to poke through. Very annoying and hard on the back. The arms are long, like very long I've happy with the purchase. But will make suggestions to the manufacturer to improve his designs.
01/09/2018
Angel Wings Babywearing Coat
We bought an Angel Wings Babywearing coat from Allie at LZO. Not only are we thrilled with the product, but it was a delight buying from LZO. Their customer service is fantastic. Thank you Allie!