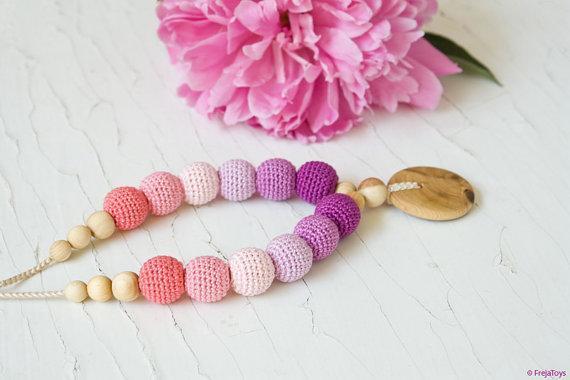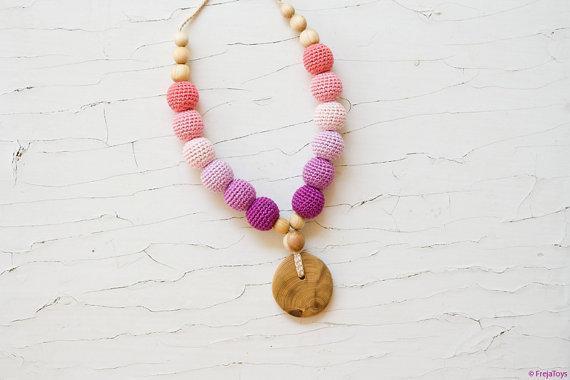 FrejaToys Berry Pretty Nursing Necklace
Natural and eco-friendly nursing necklace is a wonderful gift for new mom. 

FrejaToys nursing necklace is:
* totally natural, perfect for natural parenting;
* intended for moms to wear and babies to play with as they nurse;
* made of eco-friendly materials;
* catches your baby's attention while breastfeeding or bottle feeding;
* stimulates your little one to look and explore; 
* helps to evolve fine motor skills of your baby; 
* can be used as a teething necklace;
* is made in bright and attractive colors;
* has a very organic feel.

Breastfeeding and babywearing moms essential!

As Dr. Sears says "Keep those curiously grasping hands busy. From fingers to toys, babies love to taste everything they can get their hands on. Encourage your baby to explore objects with all his senses".

ITEM DETAILS
♥ Wooden pendant is hand carved and highly polished, smooth, with no sharp edges.
♥ Wooden pendants are finished with linseed-oil. 
♥ Juniper beads are finished with lineseed oil and have a pleasant natural odor.
♥ The beads are threaded onto a crochet cotton string.
♥ The string can be adjusted.
♥ Total Length of the string : 47" / 120 cm.

CARE INSTRUCTIONS:
Wash the necklace by hand with mild soap in warm water. Do not soak.

FrejaToys Berry Pretty Nursing Necklace