FrejaToys Natural Silk and Wood Necklaces
FrejaToys Natural Silk and Wood Necklaces
Product Description
Description
Silk & Wood nursing necklace is made of 100% NATURAL SILK YARN, absolutely safe for babies.
♥ Silk yarn is THE MOST GENTLE to the touch yarn!
♥ The mum necklace intended to go around the moms neck for your baby to enjoy a teether while being held. You can also wrap it onto a sling or stroller.
♥ No small parts makes the nursing necklace safe for babies to suck on.
♥ The crochet string stretches when your baby grabs it whether on your hip or in a sling.
♥ The necklace is also great to wear when you are nursing so your babies hands are distracted from clawing at your chest.
♥ Mum necklace is great for teething. Wood is the most natural thing a child can put in their mouth, free of chemicals and dyes found in plastic.
♥ The wood we use (applewood or juniperwood) produced in the ecologically clean area of the Baltic States, the wooden pendant is crafted by hand and finished with organic linseed-oil.
♥ Juniper beads have soft and tasty odor.
♥ The beads are threaded onto a crochet silk string that is very gentle on the touch. String can be adjusted to suit.


♥ Wood pendant measure: approx. 1,4"/3,5 cm in diameter,
♥ Total Length of the string is 42" / 110 cm.
#1 Pistachio - Applewood
#2 Pistachio - Juniper
#3 Olive - Applewood
#4 Olive - Juniper
#5 Emerald - Applewood
#6 Turquoise - Applewood
Handmade in the Ukraine
Materials: silk yarn, applewood, juniperwood, love
CARE INSTRUCTIONS:
Wash the necklace by hand with mild soap in warm water. Do not soak.
Shipping
In-stock orders ship within 72 business hours from our warehouse. You can choose Flat Rate or Carrier Calculated Shipping. Please note, there are delays with the first (initial) scan at all carriers due to COVID volume. We ship with USPS in United States. In Canada via Canada Post, Purolator, Canpar and UPS. Worldwide with Asendia or USPS. If you need your order faster - no problem! Please reach out and we can off Express and Priority Shipping Options. Outside of North America? You may be charged duties and/or customs fees.
Customer Reviews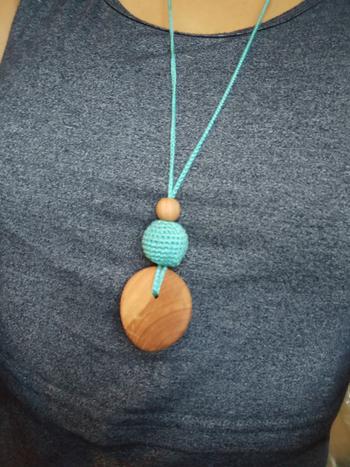 12/16/2020
Pretty and useful!
I got this necklace as an afterthought because of the pretty turquoise colour, and I'm so glad I did! My little one loves ******* on it and it successfully distracts him from ******* on the carrier straps. I think he's also found it pretty soothing during his latest teething round. It's very soft along my neck, even when it's pulled on. Bonus - it's just a nice piece of jewellery once baby outgrows it :)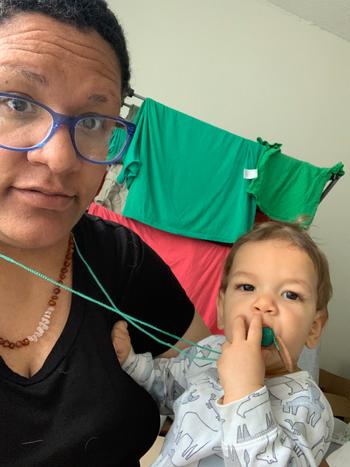 05/25/2020
Our favorite teether!
Baby always tried chewing on my necklace and pulled it so hard. I'm so glad I grabbed this from LZO it's one of our favorite babywearing accessories!
Miranda H.
Overland Park, Kansas, United States
05/03/2021
Love these!
They look great and are so practical to distract baby while nursing or to offer something safe to bite down on when teething.
Carolyn T.
Stouffville, Ontario, Canada
11/20/2017
Excellent!
I love the subtle colour and how it goes with everything.
Danielle
Mississauga, Ontario, Canada
10/16/2017
Stylish necklace
Love the natural wood and soft yarn of this lovely teething necklace. Baby loves to play with it while nursing or being carried. What I love the most is that it doesn't pull on my neck like silicone teething necklaces do. It's so light, I don't even feel it. I will continue to wear this stylish necklace long after baby looses interest. The colours and simplicity are just lovely.
Mamab5
Celista, British Columbia, Canada
09/26/2017
Beautiful and functional
I just love my necklace! It's beautiful and functional. The soft cord doesn't bother my skin, and baby can safely mouth the wood and string.
05/25/2017
Awesome
Necklace is awesome and my daughter loves to play with it while nursing. I feel good knowing it's safe for her.