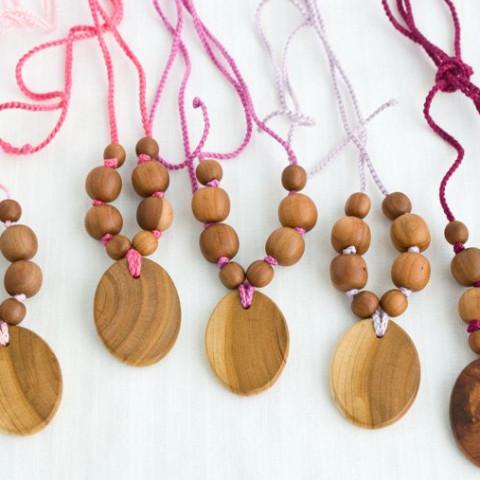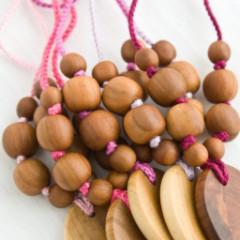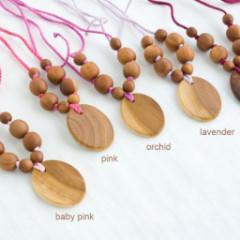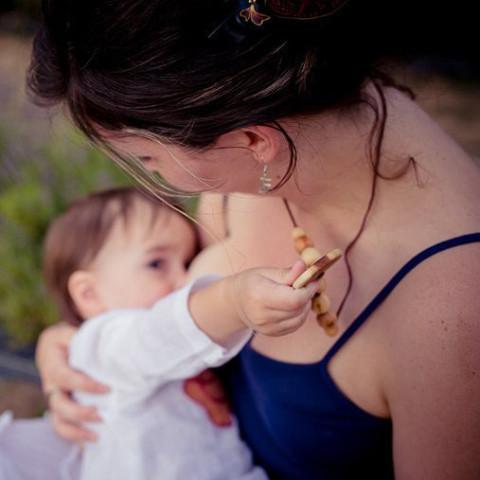 FrejaToys Shades of Pink Nursing Necklaces
FrejaToys Shades of Pink Nursing Necklaces are simple and very stylish!  These nursing necklaces catches your baby's attention while breastfeeding and stimulates them to look and explore, and helps them develop their fine motor skills. The necklace is completely safe for baby to chew on and it could be used as a baby teething toy for your little one.

ITEM DETAILS
♥ Wood pendant is hand carved and highly polished, smooth, no sharp edges.
♥ Applewood pendant is finished with linseed-oil and beeswax.
♥ Wood beads are finished with linseed-oil and have a soft 'tasty' odor.
♥ Applewood beads are threaded onto a crocheted cotton string.
♥ The beads are fixed on the string with knots.
♥ String can be adjusted to suit your needs.
♥ Wood oval pendant measure: height - 1,6'' / 4 cm, width - 1,3" / 3,3 cm.
♥ Total Length of the string : 47" / 120 cm.

This nursing necklace is 100% natural. The wooden beads are covered with a 100% cotton thread. The wood we use (applewood) is grown in the ecologically clean areas of the Carpathians and Crimea. All our products are manufactured in the Ukraine. 
Materials: applewood, pure cotton yarn, love
CARE INSTRUCTIONS:
Wash the necklace by hand with mild soap in warm water. Do not soak.
FrejaToys Shades of Pink Nursing Necklaces