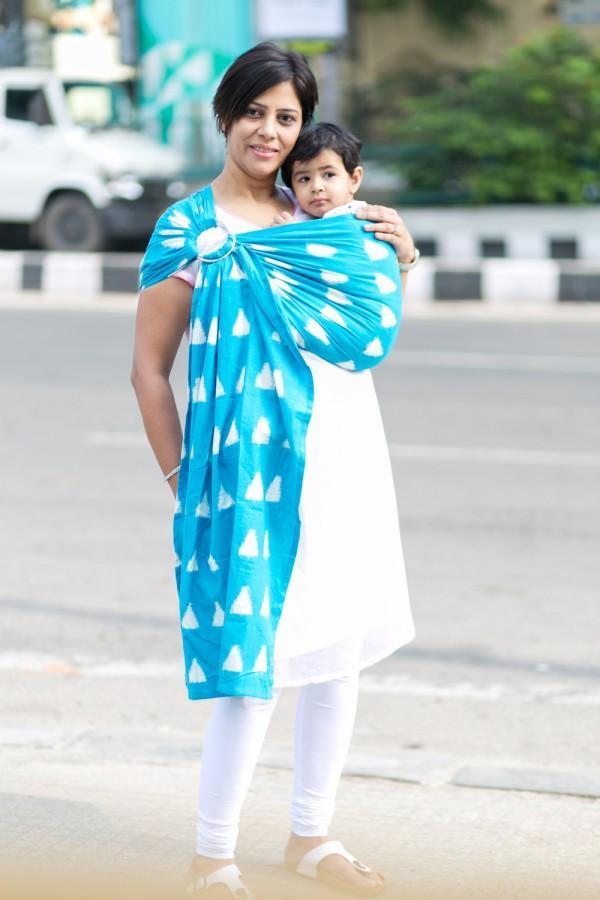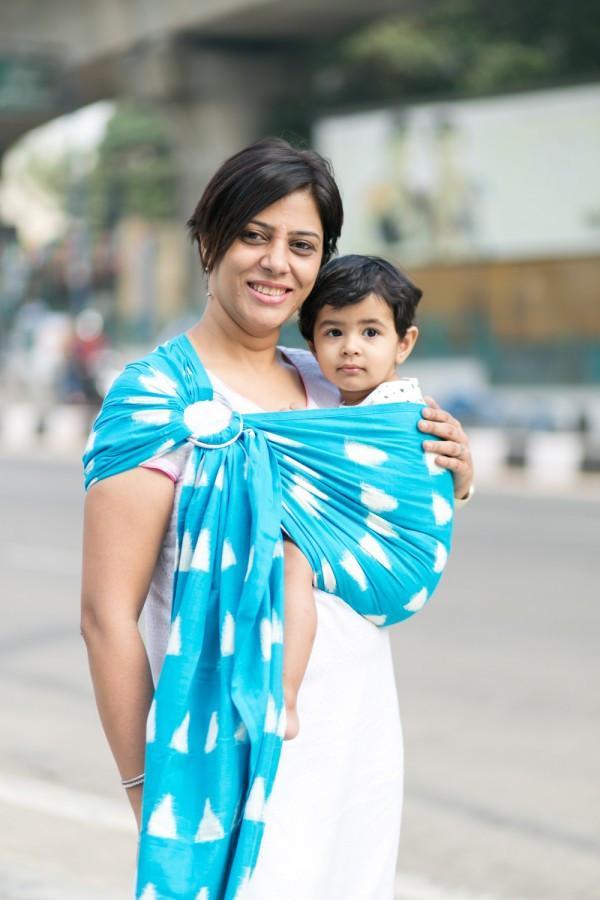 Soul Slings Ring Sling Sky Ikat
Soul Slings Ring Sling Sky Ikat.  These handwoven cotton ring slings are supportive without too much bulk. They have excellent grip and are very breathable and light. With a couple of washes, they get soft enough for tender newborn skin and remain sturdy enough to comfortably carry toddlers.

Soul ring slings are comfortable, fashionable and affordable baby carriers from India. Their generous length and simple gathered shoulder ensure that one size fits all. In fact, one sling can be used to wear your baby from birth onwards till 15 kg or so! Simple to use, compact enough to fit in your handbag and easy to maintain, Soul slings are made from 100% natural fibres.

Ikat is a unique textile dyeing technique. Traditional weavers use a painstakingly slow resist-dyeing process, in which bundles of threads are bound together with a tight waterproof wrapping to restrict spreading. Either the warp or weft is then dyed to create beautiful patterns. The bindings can be altered and may be dyed again with multiple colours to produce elaborate, multi-coloured patterns. When the dyeing is finished the bindings are removed and the threads are woven into fabric. 'Double Ikat' involves dyeing both the warp and the weft, and is considered the finest form of ikat, requiring the most precise skills and patience. Tremendous amounts of labour and experience are required, resulting in a high-quality, luxurious and unique fabric.
One layer of blue and white handwoven double ikat
Fibre: 100% handwoven ikat cotton
28 inches wide and 83 inches long
Weight recommended: up to 15 kg (33 lb)
 * Please wash and iron your Soul carrier once before use. Wash it separately for the first few washes as the colours may bleed a little.
* Sizes mentioned are before washing. Please note that the wraps are generously sized, as there will be shrinking for the first few washes.

* Soul fabrics may show colour variations, loose threads, tiny slubs, snags or unevenness that are characteristic of natural fibre textiles. These variations should in no way be considered flaws or defects as they do not affect the functionality of the carrier. It is the nature of the fabric and these imperfections highlight its natural beauty and uniqueness.
* All images in this website are for representation purposes only. Please be aware that the final product in hand may have slight variations in colour and texture when compared to the product photo(s) in this listing.


This product is ethically made by Soul in Bangalore, India.
Soul Slings Ring Sling Sky Ikat