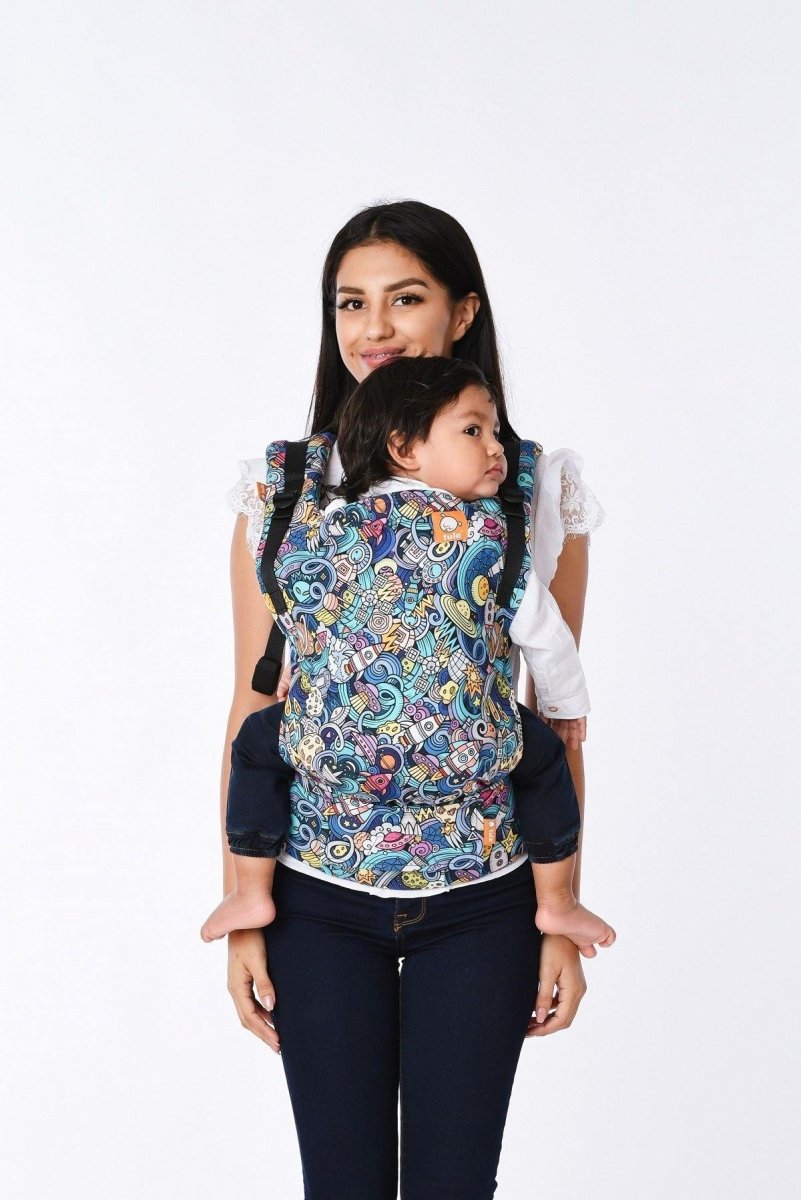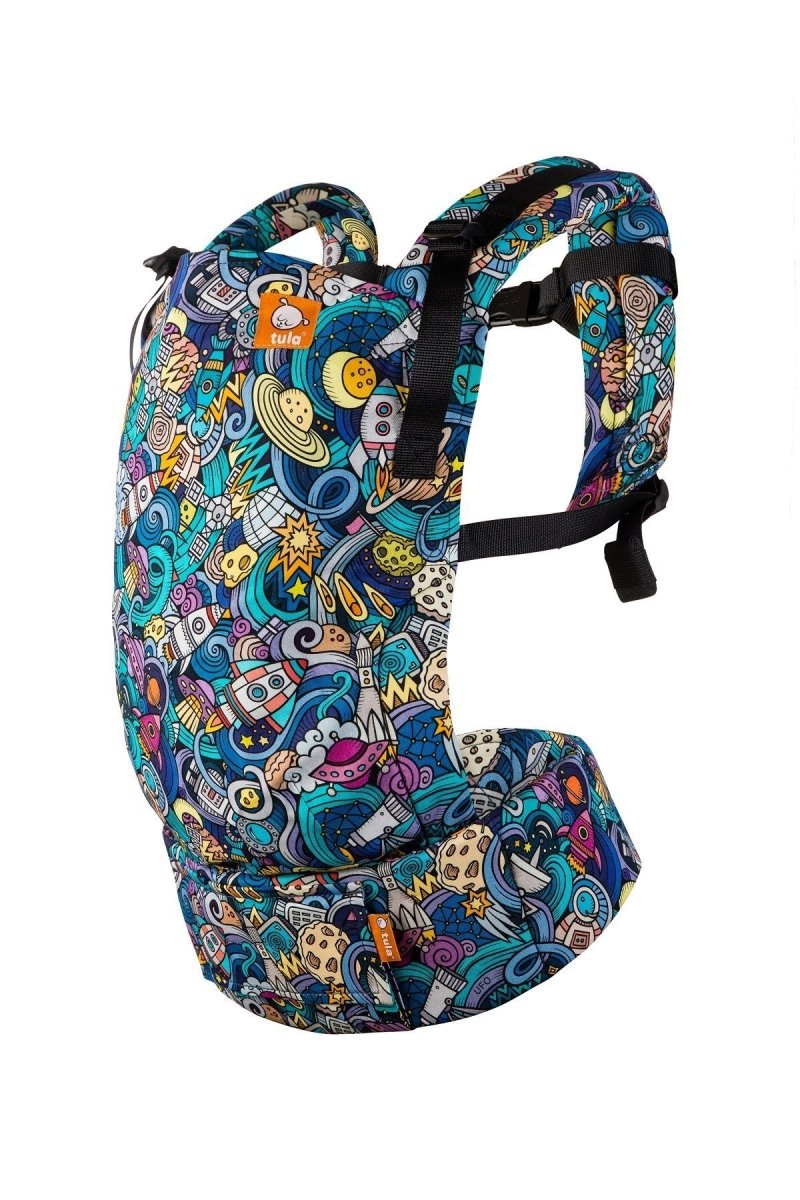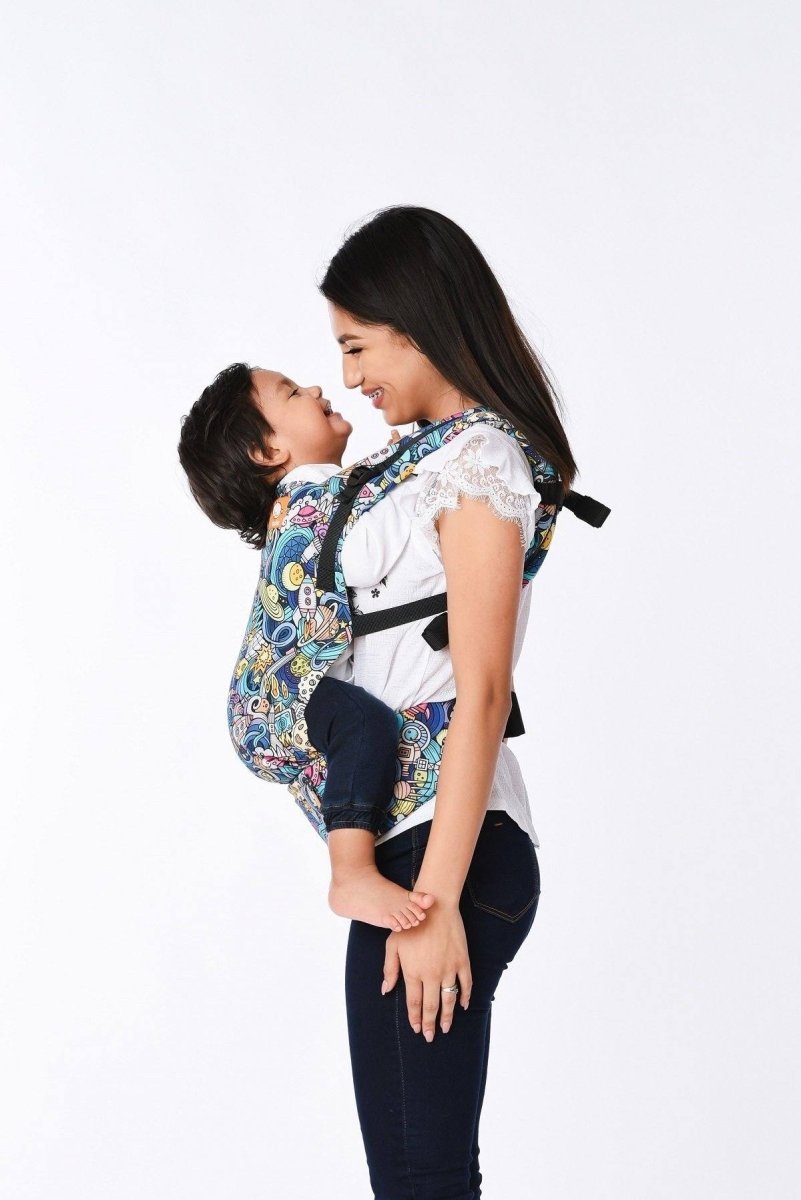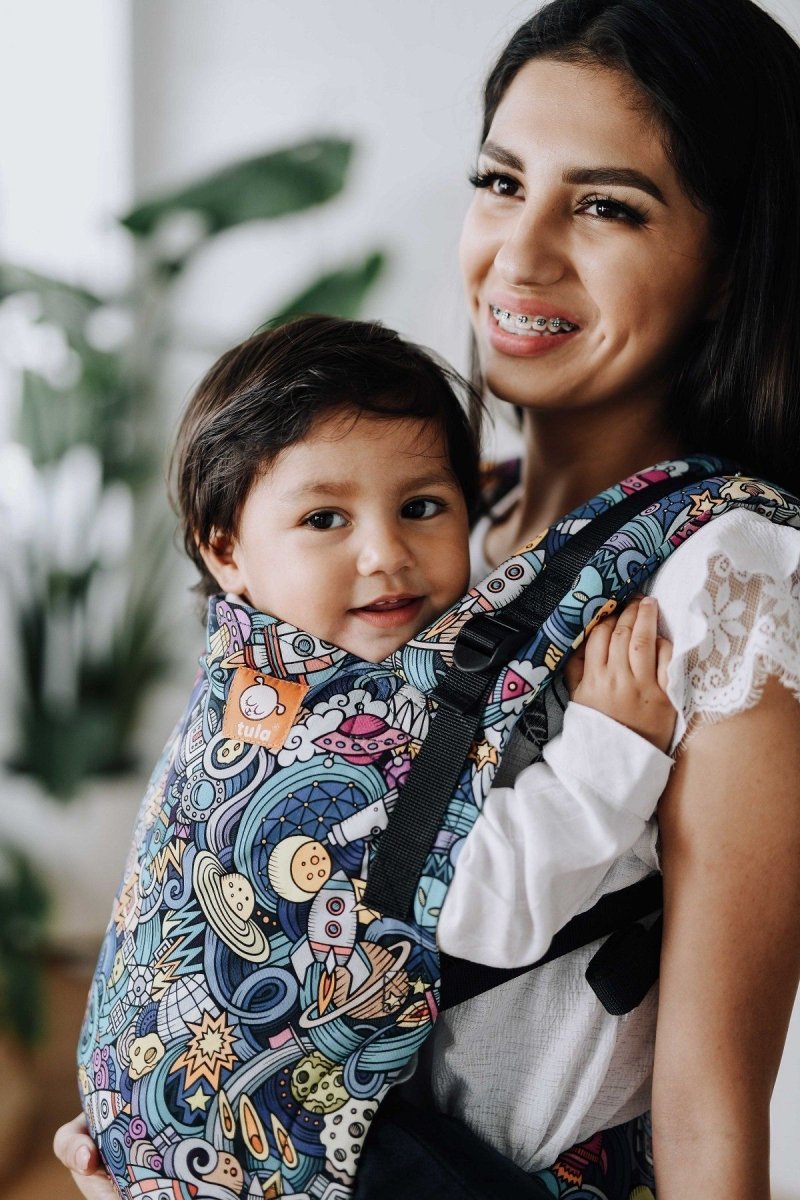 Space Rider Tula Free-to-Grow Baby Carrier
Space Rider Tula Free-to-Grow Baby Carrier. Space Rider has a bold design inspired by the wild landscape of outer space. A scene of cartoonish spaceships, rockets, satellites, and telescopes swirl around moons, planets, comets and other celestial things in blue, purple, orange, and gray hues. What joys will you discover with your Space Rider?

This classic pattern continues across the inner shell of the carrier, straps, waist belt and the detachable hood.

Join the many families who have found the ultimate baby carrier that doesn't over-complicate quality, comfort, and style. Find your fit, choose your style, and keep on doing what you love with the only carrier you'll ever need: Baby Tula.

FREE-TO-GROW BABY CARRIER FEATURES:
1. INNOVATIVE BODY PANEL
Adjusts in three width settings and two height settings to allow for an ergonomic snug position from newborn, infant and early toddlerhood

2. DUAL-ADJUSTMENT PADDED SHOULDER STRAPS
Provides optimal neck & shoulder comfort and offers quick and easy adjustments for multiple wearers

3. BREATHABLE & LIGHTWEIGHT TWILL
Hand-made from 100% OEKO-TEX® Standard 100 certified fabric

4. MULTIPLE ERGONOMIC POSITIONS
Back carry and front carry options to provide a natural, ergonomic position best for long term, comfortable carrying that promotes healthy hip and spine development for baby

5. WIDE PADDED WAISTBAND
Provides superior comfort to help evenly distribute weight, also includes large front pocket

6. EXTRA LEG PADDING
Keeps baby comfortable to allow for longer wearing

7. EASY-TO-ADJUST DESIGN
Multiple adjustment capabilities to find your perfect fit as baby grows. Can be used from 7 - 45 pounds, no infant insert required

8. COORDINATING BASE & HOOD
Twill base with coordinating removable hood with snaps to support head while sleeping, sun protection while out and about, and extra privacy while nursing.

BABY CARRIER PRODUCT MEASUREMENTS:
Depending on the snap setting, the seat panel width is adjustable from 5" - 15".
Depending on the panel height adjusters, the height of the panel is adjustable from 11" - 17" tall.
Hip Belt Measures 5" tall and 27" wide. Additional webbing extends approximately 30" (waistband total of ~ 57" long).
Weight of the carrier: 1.7 lbs.

TULA is excluded from coupons, LZO loyalty, and other discounts, offers, or promotions.
Space Rider Tula Free-to-Grow Baby Carrier