Vanamo Woven Wrap Kide Malva
Vanamo Woven Wrap Kide Malva
Product Description
Description
Vanamo Woven Wrap Kide Malva
Vanamo Kide Malva in turquoise, purple & white and a hint of hot pink! The Kide pattern was inspired by the traditional Finnish hand weaved textiles. Medium thick quality, suitable for babies and toddlers as well.
Vanamo's stunning Kide range combines intricate geometric designs with restrained neutrals and bold jewel colours, for an almost vintage feel. With a weave that is flat yet beautifully textured, reminiscent of Didymos' Old Standard or Primas, they offer solid support along with breathability.

Details:
Material: 100% GOTS Certified Organic Cotton
Color: Turquoise, Purple, White, Pink
Fabric Weight: 262 GSM loom state / 298 GSM post wash
Width: 28 inches / 72 cm
Woven at a small weaving mill Finland.
Shipping
In-stock orders ship within 72 business hours from our warehouse. You can choose Flat Rate or Carrier Calculated Shipping. Please note, there are delays with the first (initial) scan at all carriers due to COVID volume. We ship with USPS in United States. In Canada via Canada Post, Purolator, Canpar and UPS. Worldwide with Asendia or USPS. If you need your order faster - no problem! Please reach out and we can off Express and Priority Shipping Options. Outside of North America? You may be charged duties and/or customs fees.
Customer Reviews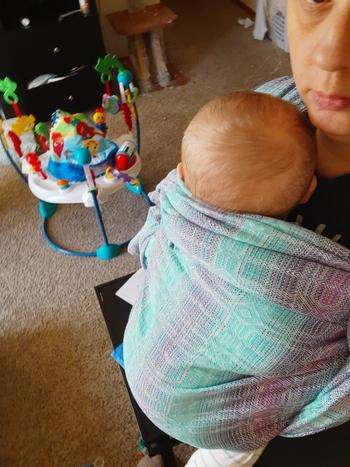 09/25/2021
I recommend this product
Beautiful and strong
I instantly fell in love. For a thicker wrap it feels thin. I can absolutely agree with the other reviews to echo the grip/glide balance. Although the size 6 in the #tbyb is a tad short it may just become permanent because of how it wraps so beautiful.
Janell J.

United States
07/16/2021
Softest one yet
I got to try this beauty in the tbyb program and I must say this is byfar the softest one ice got to try out. Eat to wrap with and such a beautiful weave
Nichole M.
Auburn, Maine, United States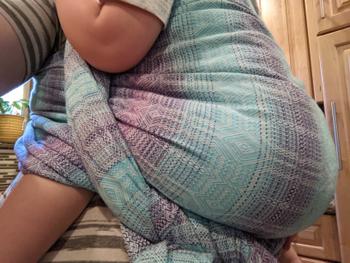 06/04/2021
Soft and strong
I was the first to receive this wrap in the TBYB program. It broke in quickly. Vanamo cotton in the Kide weave has a decent amount of glide and can feel a bit soapy but the texture of the weave is just enough to add grip resulting in a wrap with great grip/glide balance. It doesn't have a lot of stretch so I didn't care for it in double hammock carries but it really shined in ruck variations and I liked it in fwcc as well. The grad is so unique and the colors are beautiful!!
Kim
Carmichael, California, United States
09/04/2021
I recommend this product
Stunning wrap
This is my first woven wrap, and I'm in love! The fabric is absolutely stunning. As a wrapping newbie, it feels secure, and my babe & I both love it. Easy to wash and care for too! So glad this is my first wrap!
Sarah C.

Canada
08/27/2021
Not for me
This was my first time trying a wrap. I was able to try it through the tbyb program which was amazing. I like the fact that I could try a wrap for a week and not have purchased it if I didn't like it. As for the wrap the colors are amazing and it was very soft however I felt it was too thick. I struggled to tie the wrap off.
Becka B.

United States
08/20/2021
I recommend this product
Soft sleepy Beauty
Ahmazing, soft from its time in the tbyb and so beautiful
Nichole M.

United States