Didymos Baby Woven Wrap Double Face Rosalinde
Didymos Baby Woven Wrap Double Face Rosalinde
Product Description
Description
Didymos Baby Woven Wrap Double Face Rosalinde
With one side in dusky pink, the other in cool  grey, this wrap is pretty and classic.  Extremely soft, woven in a sturdy but delicate weave, with perfect diagonal stretch. Perfect for beginners and experienced wrappers.

Double faces are dense but thin-medium wrap. They are very durable, and have great moldability and a classic look. Perfect for a beginner, you'll find it easy to learn to wrap with. That same ease makes it a great advanced wrap as you learn new finishes. Plus, as a double face, you'll get two looks in one wrap!
Details:
Material: 100% Organic Cotton
Color: Pink, Grey
Weave: Doubleface (two different sides)

Note: Please allow two weeks for delivery of some sizes
Shipping
In-stock orders ship within 72 business hours from our warehouse. You can choose Flat Rate or Carrier Calculated Shipping. Please note, there are delays with the first (initial) scan at all carriers due to COVID volume. We ship with USPS in United States. In Canada via Canada Post, Purolator, Canpar and UPS. Worldwide with Asendia or USPS. If you need your order faster - no problem! Please reach out and we can off Express and Priority Shipping Options. Outside of North America? You may be charged duties and/or customs fees.
Customer Reviews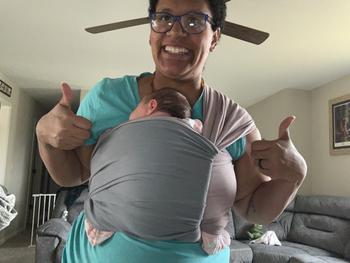 10/22/2020
I adore this wrap!
DF Rosalinde has to be one of my all time favs! It's nice and thin, but still super supportive. And my favorite thing ever, ITS EASY CARE! I love solids so this color is totally for me. I love the dusty pink and grey. Rosalinde is very easy to wrap with and I love to use it while I learn new carries. It's easy to tighten and I love that you can have two totally different looks with one wrap.
Miranda H.
Oak Grove, Missouri, United States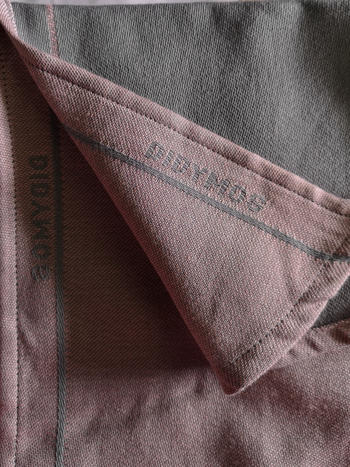 05/10/2020
Absolute Love
The fabric is light and thin, yet so fluffy and supportive. I really love the fine texture and softness. And the different side makes is more versatile
ima
Bukit Mertajam, Penang, Malaysia
10/08/2017
Didymos Rosalinde woven wrap
I love this wrap! It's just as beautiful and comfortable as I had hoped it would be!
Michelle B.
Kitchener, Ontario, Canada