Didymos Baby Woven Wrap Ada Malachite
Didymos Baby Woven Wrap Ada Malachite
Product Description
Description
Didymos Ada Malachite - Ada is a new weave. Soft, textured. Squish to toddler worthy. This wrap is of a thinner weight, great for beginners and experts alike. 
This colourway is amazing and the geology nerd in us loves the reference.
100% Organic Cotton
Emerald, Dark Blue, Turquoise, Lime Green, Bright Yellow
200 GSM
Released: January 23, 2017
How do you wash your Didymos woven wrap? Washing instructions

*Some sizes will take 2 weeks to ship*
Shipping
In-stock orders ship within 72 business hours from our warehouse. You can choose Flat Rate or Carrier Calculated Shipping. Please note, there are delays with the first (initial) scan at all carriers due to COVID volume. We ship with USPS in United States. In Canada via Canada Post, Purolator, Canpar and UPS. Worldwide with Asendia or USPS. If you need your order faster - no problem! Please reach out and we can off Express and Priority Shipping Options. Outside of North America? You may be charged duties and/or customs fees.
Customer Reviews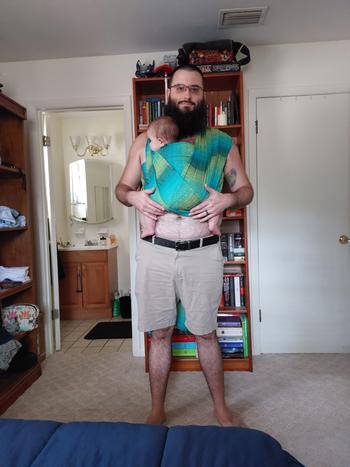 03/20/2022
Works great
I wanted a wrap like my wife's so I can wear the baby too, but in my size and in colors that I want my wrap to be. It is easy to wear and very simple too. The baby is always happy in it as well
George

United States
11/10/2021
Love!!
This was my first woven wrap that I have every purchased and I am so glad I chose Didymos. The fabric is so soft and beautiful, the photos do not do it justice. I was very worried that I was going to have to work it in when I first got it like I have read online but it was so soft that after a quick wash it was easy and simple to use with my little one. I absolutely love this wrap, I order a 6 which is a bit long for someone who is 5'1'' so I will probably order a smaller size (4) in the future as I do not need that much fabric. It did take a really long time to get this in stock but it was worth the wait. This is an absolute must buy, you will not be sorry.
Devon

United States
11/01/2021
I recommend this product
Lovely color
My first woven wrap. I love it! Bought a 7 for my twins but can use it with one baby no problem. Love love love the colors. Pattern helps with keeping track of straightening while trying on different carries. Babes love falling asleep in it. It's not super stretchy but very soft and I hear it gets more buttery with use. I love it.
Tugce B.

Canada
08/17/2017
Ada Malachite...our new love.
Gorgeous and vibrant. Light and airy Ada weave. Cottony plush in hand. Officially one of our favorites and LZO is just fantastic everytime. Thanks for another perfect transaction, Allie.
Jessica B.
Pleasant Lake, United States