Didymos Baby Woven Wrap Cleo Stripes
Didymos Baby Woven Wrap Cleo Stripes
Product Description
Description
Didymos Cleo Stripes 

Super fun! Cleo is woven in lightweight, fine cross twill weave that is both soft and sturdy. It's  easy to use and tie.
The stripes are pretty, delicate and colorful. Great for beginners and experts alike.

Details
Material: 100% Organic Cotton
Color: Multi-coloured
Fabric Weight: 195 GSM (lightweight)
Shipping
In-stock orders ship within 72 business hours from our warehouse. You can choose Flat Rate or Carrier Calculated Shipping. Please note, there are delays with the first (initial) scan at all carriers due to COVID volume. We ship with USPS in United States. In Canada via Canada Post, Purolator, Canpar and UPS. Worldwide with Asendia or USPS. If you need your order faster - no problem! Please reach out and we can off Express and Priority Shipping Options. Outside of North America? You may be charged duties and/or customs fees.
Customer Reviews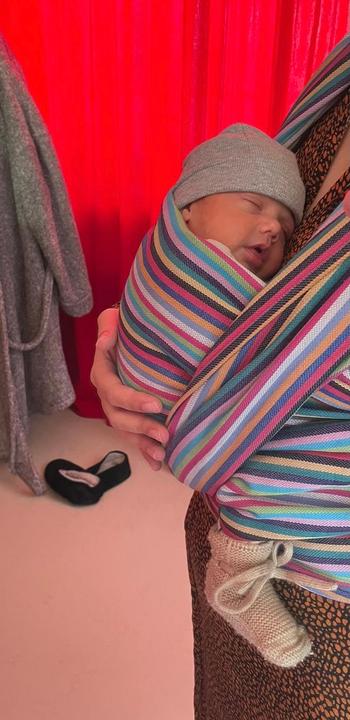 07/10/2021
Enjoying having the baby close and safe :)).
The stripe allow us, mummy, daddy and the any close, to feel the baby to be close to us, warm and feel safe :))
Xavier P.
Auckland, Auckland, New Zealand
12/26/2020
Such a happy wrap
I first tried Cleo as part of the "try before you buy program" with the ring sling. I just fell in love with the stripes and the colour way and have been wanting the wrap since. It is lightweight but supportive and the colours are so just happy, you can't not smile when you have this wrap on.
NE
Squamish, British Columbia, Canada
12/28/2017
Didymos Cleo Stripes
This is my first woven and I suspect it will be the first of many! It was soft and easy to use with my three month old straight out of the box. The colours are magnificent and I joked to Allie that it will make baby and I easy to spot when we're out in crowded spaces with my husband and our older child. Thanks again, Allie! I thought I was a SSC kind of gal but under your kind, patient and knowledgeable tutelage I might just be a wrapper!