Chili DidyGo (Onbuhimo) by Didymos
Chili DidyGo (Onbuhimo) by Didymos
Product Description
Description
Didymos DidyGo Onbuhimo Chili.  
Toddlers love to explore the world on their own once they can crawl or walk. But they also love and need to be worn and held close to their parents. The Didy Onbuhimo baby carrier is a great way to fill that need.
DidyGo model Chili made from sturdy cross twill fabric, supportive and comfortable. The colour, a soft, pastel chili red matches many wardrobe styles.
The Onbuhimo carrier, originating from Japan, is worn up high on the back and is designed for babies, toddlers, and children who can sit unassisted. It looks a bit like a rucksack and it is as fast to put on and to take off - ideal for toddlers who love frequent ups and downs!
Without a waist belt and worn on the back, it is also a perfect choice for a pregnant mother who can carry her child without putting pressure on the growing belly.
Made of the same high quality fabric as Didymos baby wraps, the Didy Onbuhimo supports your child's back perfectly and holds her/him in a healthy and safe position.
Individually adjustable and easy to handle, the Didy Onbuhimo carrier allows for close, stress-free babywearing.
Features that make our DidyGo Onbuhimo so comfortable:
Suitable for caregivers of different body shapes and sizes
Wide, padded shoulder straps, individually adjustable
Back panel made from Didymos high quality wrap fabrics with inherent diagonal stretch allowing the panel to conform to your child's shape and to create a supportive and comfortable pouch.
Adjustable chest strap to optimize the fit of of the shoulder straps and the pouch
Fully adjustable seat width to conform to your child's size.
Padded edges to protect the back of your child's knees.
Adjustable head rest to provide secure hold and support for your child's neck and head.

Details:
230 GSM (medium weight)
Material: Straps and panel: 100% Organic Cotton 
Washable: 30°C, Gentle Cycle. Don't tumble dry. 
Colour: Natural White, Red 
Age of child: From sitting age, 7 to 20 kg / 15 - 45 lbs.
Shipping
In-stock orders ship within 72 business hours from our warehouse. You can choose Flat Rate or Carrier Calculated Shipping. Please note, there are delays with the first (initial) scan at all carriers due to COVID volume. We ship with USPS in United States. In Canada via Canada Post, Purolator, Canpar and UPS. Worldwide with Asendia or USPS. If you need your order faster - no problem! Please reach out and we can off Express and Priority Shipping Options. Outside of North America? You may be charged duties and/or customs fees.
Customer Reviews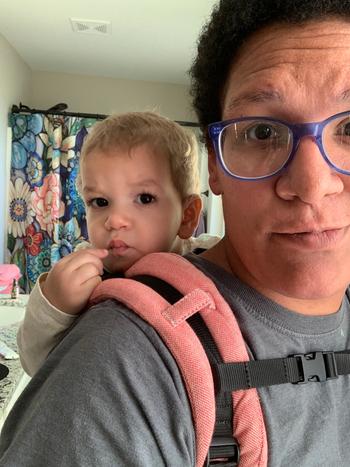 11/14/2020
Great onbuhimo
We got to use this in the LZO Try before you buy program! We love onbuhimos and this one is no different. Chili is a beautiful solid and it's very soft and sturdy. The Didygo is super easy to adjust from baby to baby, and is super comfortable. Definitely worth a try if you don't love carriers with a waist.
Miranda H.
Oak Grove, Missouri, United States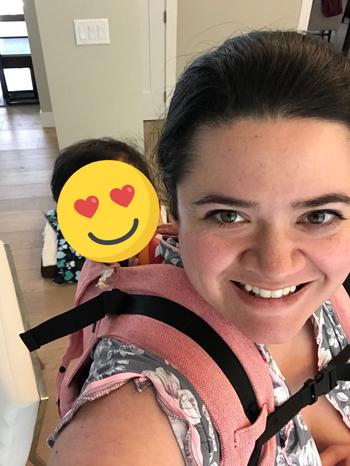 06/08/2020
Comfy and cute!
I received the Chili DidyGo as part of a bundle, and I love it! I was worried about the color at first because the pics online look like a light pink, but in real life it's clearly red and white, and so pretty! It's super comfy and easy to use. It has quickly become one of my favorite carriers!
Alesha
Lincoln, Nebraska, United States