Trias Rosé DidyGo (Onbuhimo) by Didymos
Trias Rosé DidyGo (Onbuhimo) by Didymos
Product Description
Description
Didymos DidyGo Onbuhimo Trias Rosé
The Onbuhimo carrier, originating from Japan, is worn up high on the back and is designed for babies, toddlers, and children who can sit unassisted. Fast to put on and to take off - ideal for toddlers who love frequent ups and downs!
Without a waist belt and worn on the back, it is also a perfect choice for a pregnant mother who can carry her child without putting pressure on the growing belly.
Made of the same high quality fabric as Didymos baby wraps, the Didy Onbuhimo supports your child's back perfectly and holds her/him in a healthy and safe position. Individually adjustable and easy to handle, the Didy Onbuhimo carrier allows for close, stress-free babywearing.
Features:
Suitable for caregivers of different body shapes and sizes
Wide, padded shoulder straps, individually adjustable
Back panel made from DIDYMOS wrap fabrics with inherent diagonal stretch allowing the panel to conform to your child's shape and to crreate a supportive and comfortable pouch
Adjustable chest strap to optimize the fit of of the shoulder straps and the pouch
Fully adjustable seat width to conform to your child's size
Padded edges to protect the back of your child's knees
Adjustable head rest to provide secure hold and support for your child's neck and head
Suitable for children who can sit unassisted, weight from abt. 7 to 20 kg
Didy Onbuhimo made from our Trias Rosé wrap fabric -  lightweight and woven from best organic cotton and linen. Slate grey and rosé coloured yarns interplay to add still more appeal and style to our decorative Trias pattern.
Surface weight: 230 g/m²

Washable: 30°C, Gentle Cycle. Don't tumble dry

Colour: Slate Grey, Rosé

Age of child: From sitting age, abt. 7 to 20 kg
Straps and panel: 70 % Organic Cotton, 30 % Linen
Please allow two weeks for shipping. 

Shipping
In-stock orders ship within 72 business hours from our warehouse. You can choose Flat Rate or Carrier Calculated Shipping. Please note, there are delays with the first (initial) scan at all carriers due to COVID volume. We ship with USPS in United States. In Canada via Canada Post, Purolator, Canpar and UPS. Worldwide with Asendia or USPS. If you need your order faster - no problem! Please reach out and we can off Express and Priority Shipping Options. Outside of North America? You may be charged duties and/or customs fees.
Customer Reviews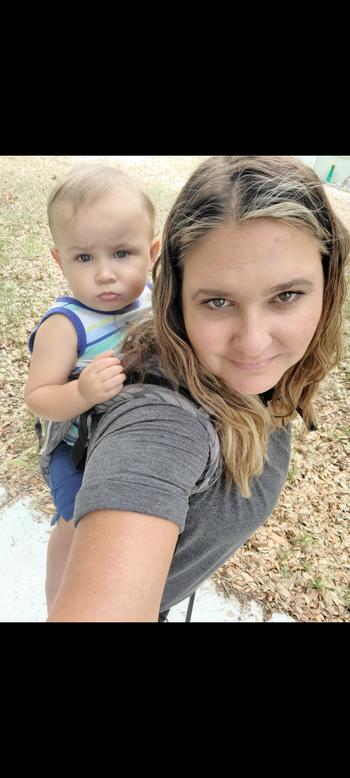 01/22/2022
I recommend this product
Perfect for quick ups
Trias Rose is so pretty and shiny! It's wonderful for quick ups when you have a toddler that wants up and down alot. My little one also loves how high up he is. He can see everything. The linen is cool to the touch which makes it great in the heat.
Heather

United States
04/11/2021
Great quick back option!
Recently received our new DidyGo in Trias Rosé and it's soooo pretty! Perhaps a little crisp, brand new, but not at all uncomfortable or scratchy and it was actually helpful that it gave a little "structure" for learning, yet molded perfectly around baby. I have a very determined, seat-pipping wrapee, so we've been getting frustrated with back wrapping and got this as a quick alternative and boy did it deliver! It was quite easy to get nice and high on my back. The straps are straightforward and easy to reach to adjust. The shoulder straps are lovely and padded; while the chest strap can be adjusted to just the perfect, comfortable position. A great little purchase! And as always, LZO made ordering super simple and delivery was lightening fast!
JL
Newcastle, Ontario, Canada