Zephyr DidyGo (Onbuhimo) by Didymos
Zephyr DidyGo (Onbuhimo) by Didymos
Product Description
Description
Didymos DidyGo Onbuhimo Zephyr.

Toddlers love to explore the world on their own once they can crawl or walk. But they also love and need to be worn and held close to their parents. The Didy Onbuhimo baby carrier is a great way to fill that need.
Features that make our DidyGo Onbuhimo so comfortable:
Suitable for caregivers of different body shapes and sizes
Wide, padded shoulder straps, individually adjustable
Back panel made from Didymos high quality wrap fabrics with inherent diagonal stretch allowing the panel to conform to your child's shape and to create a supportive and comfortable pouch.
Adjustable chest strap to optimize the fit of of the shoulder straps and the pouch
Fully adjustable seat width to conform to your child's size.
Padded edges to protect the back of your child's knees.
Adjustable head rest to provide secure hold and support for your child's neck and head.
Suitable for children who can sit unassisted, weight from approximately 15 - 45 pounds / 7 to 20 kg
The Onbuhimo carrier, originating from Japan, is worn up high on the back and is designed for babies, toddlers, and children who can sit unassisted. It looks a bit like a rucksack and it is as fast to put on and to take off - ideal for toddlers who love frequent ups and downs!
Without a waist belt and worn on the back, it is also a perfect choice for a pregnant mother who can carry her child without putting pressure on the growing belly.
Made of the same high quality fabric as Didymos baby wraps, the Didy Onbuhimo supports your child's back perfectly and holds her/him in a healthy and safe position.
Individually adjustable and easy to handle, the Didy Onbuhimo carrier allows for close, stress-free babywearing.

Details:
260 GSM (heavyweight)
Material: Straps and panel: 100% Organic Cotton
Washable: 30°C, Gentle Cycle. Don't tumble dry.
Colour: Raw White, Yellow, Red, Turquoise
Age of child: From sitting age, 7 to 20 kg / 15 - 45 lbs.
May take 2 weeks for shipping
Shipping
In-stock orders ship within 72 business hours from our warehouse. You can choose Flat Rate or Carrier Calculated Shipping. Please note, there are delays with the first (initial) scan at all carriers due to COVID volume. We ship with USPS in United States. In Canada via Canada Post, Purolator, Canpar and UPS. Worldwide with Asendia or USPS. If you need your order faster - no problem! Please reach out and we can off Express and Priority Shipping Options. Outside of North America? You may be charged duties and/or customs fees.
Customer Reviews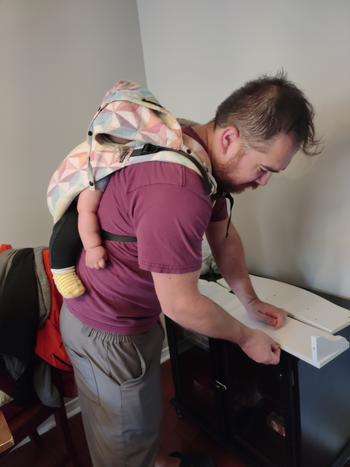 12/22/2020
Practical and pretty!
I bought this DidyGo on a bit of a whim and I'm so glad I did! Even though I have a DidyKlick and a Tula carrier (both of which I also love), I find I turn to my DidyGo often for those quick back carries when I need to get chores done. My little one enjoys being carried in it and it's comfortable for both of us. Zephyr is very pretty but still neutral. Bonus - it's easy for my partner to also use and he's even gotten baby to fall asleep while building shelves! :)
08/09/2020
Happy baby happy mom
Makes working from home these days so much easier!! We wouldn't be surviving teething right now if I couldn't plop him on my back for snuggles while I work.
Alexandra H.
Carlsbad, New Mexico, United States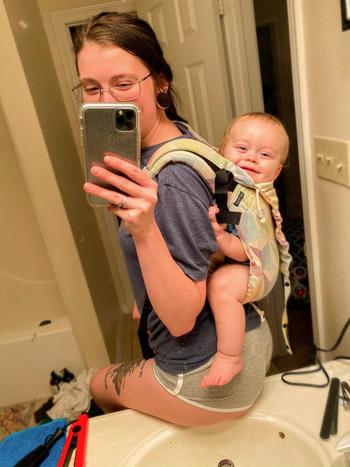 11/15/2019
A LIFE SAVER
I wish I could give this more than 5 stars. I was a little skeptical at first bc it did take a second to come in and I had never ordered from this site but when I say I was SO FAR from dissatisfied. It is such amazing quality. It's sturdy.It's easy to use. I CAN USE BOTH OF MY HANDS AGAIN. The material, and i can not stress this enough, is amazing and the packaging is even better. 10/10
Bettye
Beaumont, Texas, United States
12/14/2020
Easy and fast
The didygo is awesome for quick ups, it is so easy and fast to get my little one into a back carry. We both love that it's a high back carry...that way my little one can easily see everything. The Zephyr pattern is also gorgeous and soft out of the bag. Its the perfect alternative to a traditional rainbow.
NE
Squamish, British Columbia, Canada