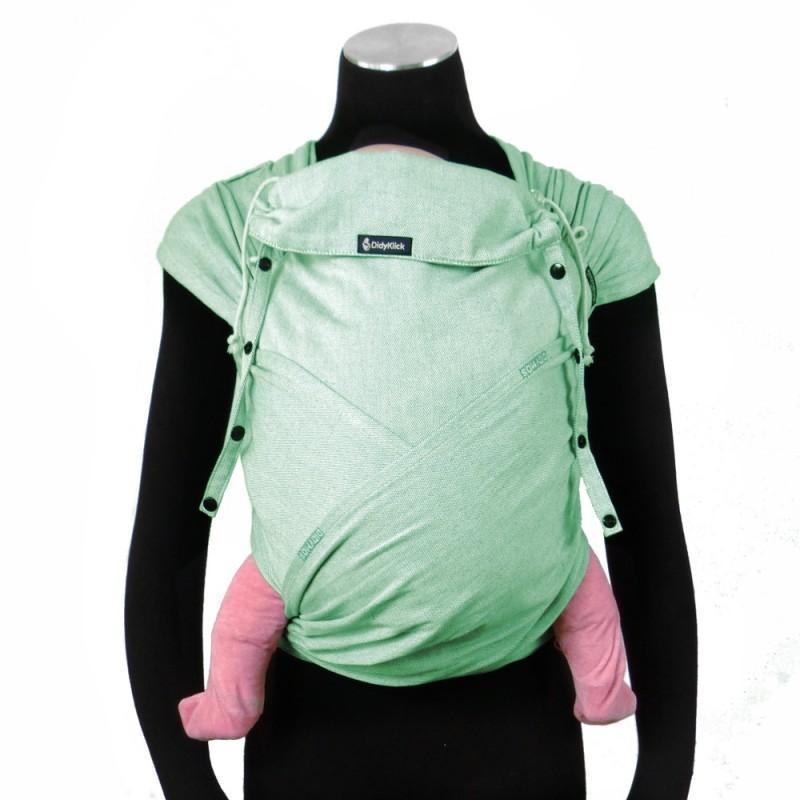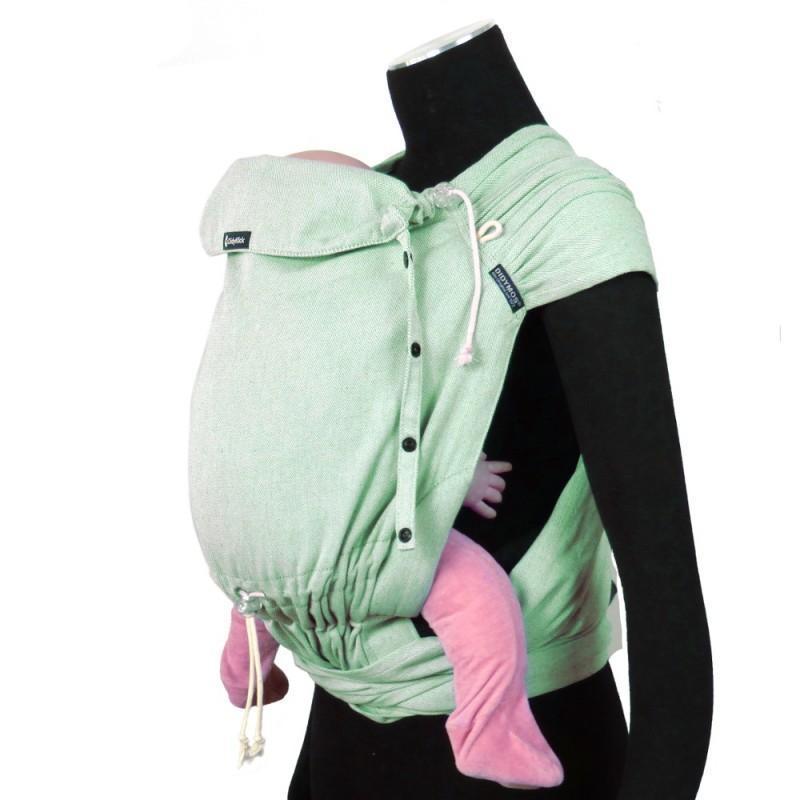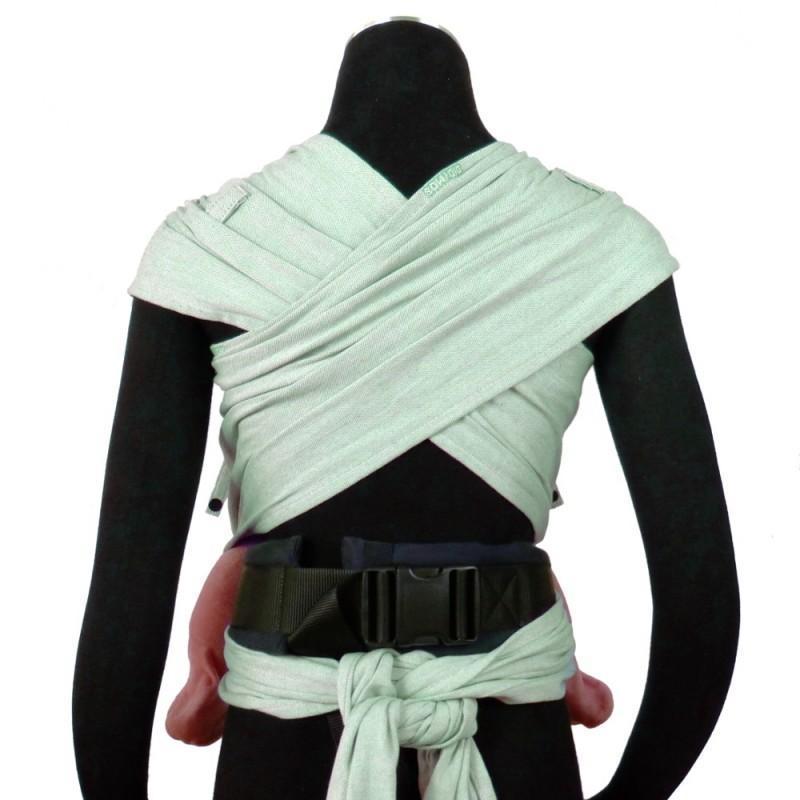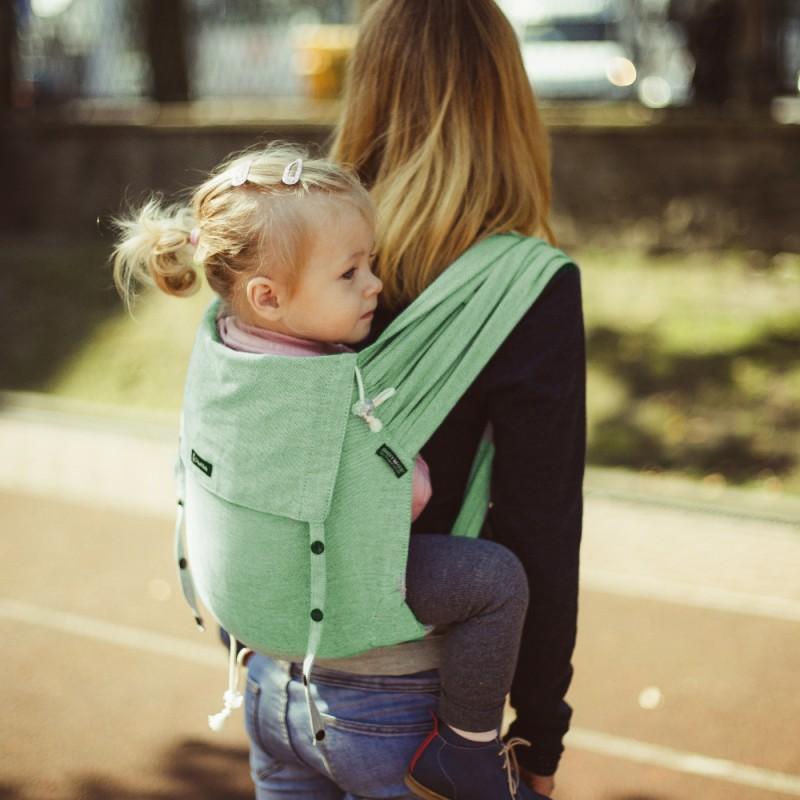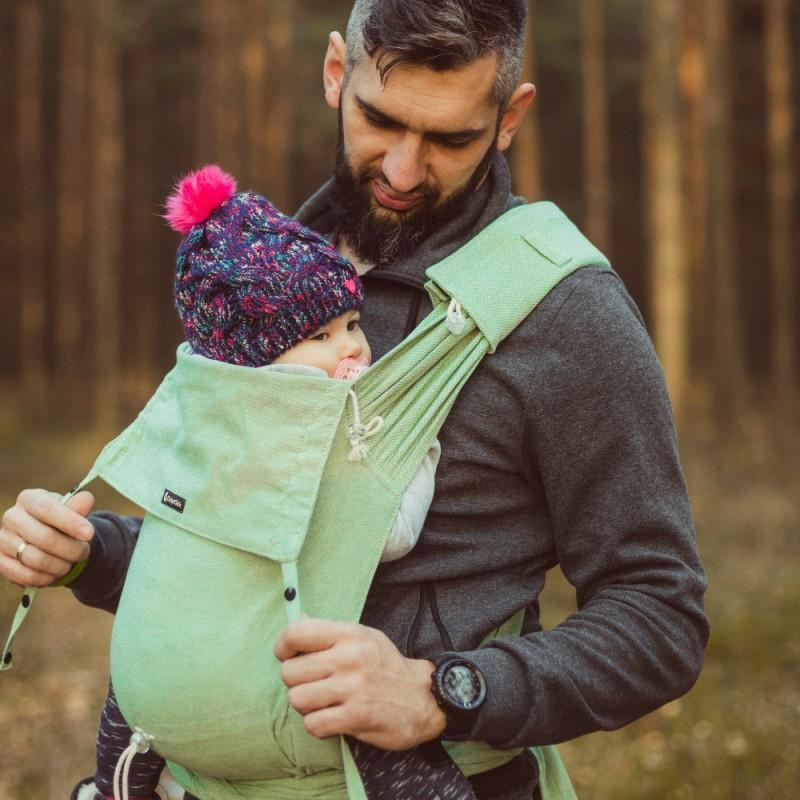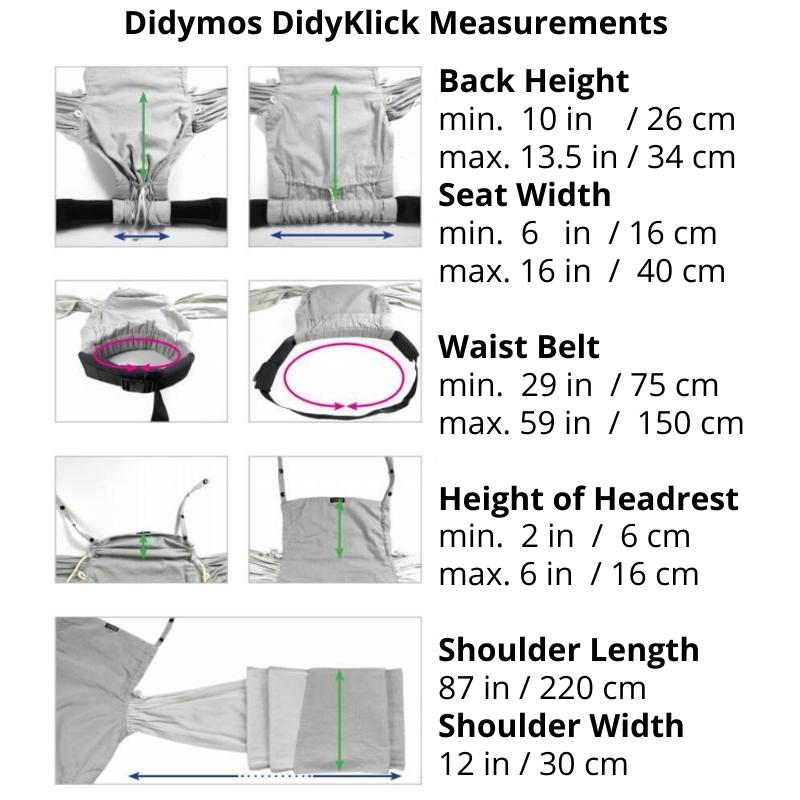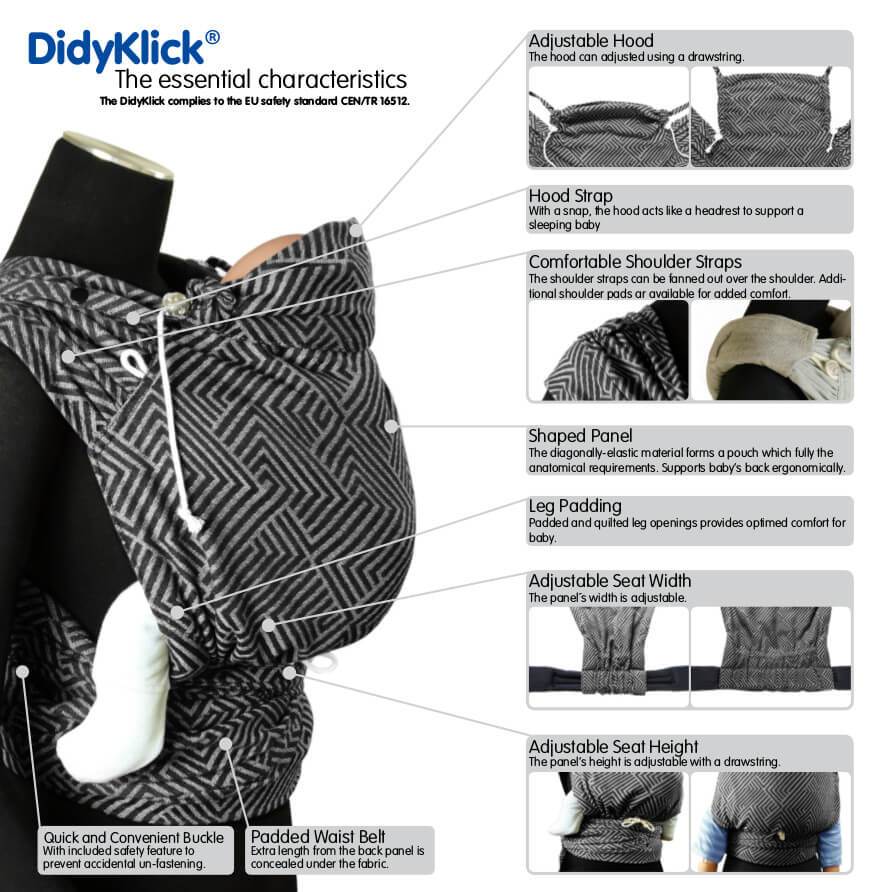 Jade DidyKlick by Didymos
Organic Cotton

Washable

Safe and Secure

Adjustable
Description

Didymos DidyKlick Jade

What is the difference between the DidyKlick and DidyKlick 4U? The only difference is that DidyKlick 4U has a slightly curved waist belt.


Are you torn between the comfort and support of a woven wrap and the convenience of a full buckle carrier? The DidyKlick has the best of both worlds. It is easily adjustable to fit wearers of most shapes and sizes. Unlike most carriers, it also can be used from birth into the toddler years (3 kg up to 18 kg / 7 - 40 lbs)!

Jade is a mix of white and green, 100% organic cotton, giving it a soft, neutral, spring green color. As with the entire New Standard (Silver, Jade, Ocean, and Chili) Collection, this is a medium weight which could be used in both warm and cold climates. It is made with 100% organic cotton that feels strong and supportive with a noticeable diagonal stretch.

How do you use a DidyKlick?
The DidyKlick is a fan favorite for many reasons, one being that it is easy to use. Simply buckle the structured waist, sit baby in the pouch like you would with any structured carrier, tie the shoulder straps, and you're good to go!
But that's not all… the DidyKlick is so versatile!


DidyKlick can be worn on your front, hip, and back

Comfy, wide shoulder straps can be tied and spread in multiple ways, making it customizable for comfort for anyone who is wearing it

The waistband can be removed and can be converted into an Onbuhimo

DidyKlick Measurements
Back Height: min. 10 in. + max. 13.5 in
Seat Width: min. 6 in + max. 16 in
Waist Belt: min. 29.5 in + max. 59 in
Height of Headrest: min. 2 in + max. 6 in
Shoulder Length: 86.6 in + Width: 12 in

Details


Material: Straps and panel: 100% Organic Cotton
Fabric Weight: 240 GSM (medium weight)
Washable: Up to 30°C, Gentle Cycle, Slow Spin Speed
Color: Green, White
Manufactured: Made in Germany and neighboring countries.
Age of Baby: Fully adjustable and suitable from 3 kg up to 18 kg / 7 - 45 lbs.
Adjusts from Newborn to Toddler

Fully adjustable body panel, shoulder straps, sleep hood, and waist belt allow for a comfortable fit for all body types.
Comfortable  wrap fabric creates a secure pouch for your child
Natural spread squat positioning makes for  a comfortable, ergonomic seat for your child 
Cushioned waist belt with safety clip-buckle promises a safe, comfortable fit for all body types
Multiple Ways to Wear

Front
Hip
Back (mid and high back carry)

Comfortable wide shoulder straps can be tied and spread in multiple ways, making it customizable and comfortable for baby and wearer
Tutorials
Measurements

DidyKlick Measurements

Back Height: min. 10 in. / 26 cm + max. 13.5 in / 34 cm
Seat Width: min. 6 in / 16 cm + max. 16 in / 40 cm
Waist Belt: min. 29.5 in / 75 cm + max. 59 in / 150 cm
Height of Headrest: min. 2 in / 6 cm + max. 6 in / 16 cm
Shoulders: Length: 86.6 in / 220 cm + Width: 12 in / 30 cm
Shipping & Returns

Shipping Information

In-stock orders are processed within 72 business hours after you receive your order confirmation email. We ship from Buffalo, New York in the USA, and Mississauga, Ontario in Canada. 

If an item is on back-order, you will be notified by email.

Once your order is shipped from our warehouse, you will receive an email notifying you your order has been shipped. 

Please note, we see delays in the initial scan of packages at USPS and Canada Post, and this is outside of our control. We appreciate your patience!

International Shipping

Do we ship to APO? Yes, we do.

Do we ship Outside of North America? Yes! Shipping charges for your order will be calculated and displayed at checkout.

Internationally, we offer Carrier Calculated Shipping and $15 Flat rate Partially Tracked Shipping

Your order may be subject to import duties and taxes, which may be incurred once a shipment reaches your destination country.

Little Zen One is not responsible for these charges if they are applied, they are your responsibility as the customer. 

How do I check the status of my order?

When your order has shipped, you will receive an email notification from us which will include a tracking number you can use to check its status. Please allow 48-72 hours for the tracking information to update as there are delays at Canada Post and  USPS with the initial scan. 

In North America, If you haven't received your order within 10 days of receiving your shipping confirmation email, please contact us at hello @ littlezenone.com with your name and order number, and we will look into it for you.

If you are outside of North America, please allow 21 days before contacting us.

You can also track your order by clicking here.

Refunds, returns, and exchanges

We accept returns up to 30 days after delivery if the items are unused and in their original condition (not tried on).

If your order is eligible for a return, we will refund your order amount minus the shipping costs and a 10% restocking fee. Please view our full return policy here.

If you have any further questions, please don't hesitate to contact us at hello @ littlezenone.com.
Jade DidyKlick by Didymos
Simple to Use
Easy and comfy, soft but sturdy - 100% Organic Fabric and Buckle waist belt

A half buckle is perfect to use from birth to toddler

How? Place your little one on your body, just above the waist belt. Bring the panel up, cross the shoulder straps behind you and tie!
THe fine print
- Adaptable and grows with your child
- Suitable for caregivers size US 0 to 22
- Combines a supportive padded waist belt and woven fabric panel for the comfort of a wrap with the structure of a buckle carrier
- Ergonomic support for little ones
- Wear on front, hip, high, mid, or low back
- Integrated hood for added convenience
- ASTM tested, crafted from 100% organic cotton, and meets EU safety standard CEN/TR 16512.

WHAT PARENTS ARE SAYING ABOUT THE DIDYKLICK
FINALLY!
The Didyklick is the best of both worlds, both SSC and woven wrap. I originally carried my son in a stretchy wrap but he was getting too heavy for it at 18lbs. I switched to woven wraps but he didn't like waiting for me to wrap him for a back carry. The Didyklick allows me to get a good snug fit and I can do a back carry super fast now! I also love how I can fan the tails wide on my shoulders for comfort. I read every review on the Didyklick before buying. You won't regret it!
Grace S, Lubbock, Texas
A necessity
"As a mom of two living on a farm, babywearing is a necessity! The DidyKlick combines the ease of a full buckle with the custom fit of a wrap. It is super supportive, and little squish falls asleep within 5 minutes of wearing it. I love the head support as well for when he is sleeping."
Rachel, British Columbia, Canada