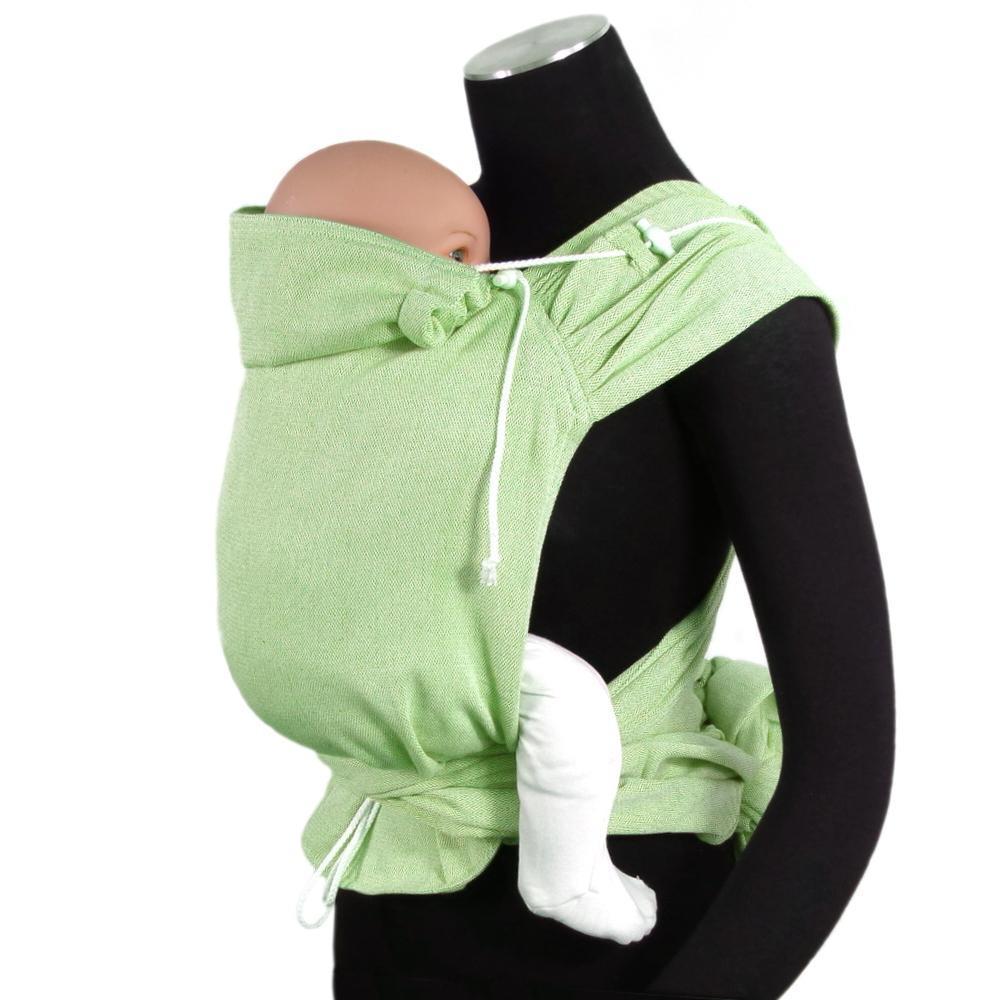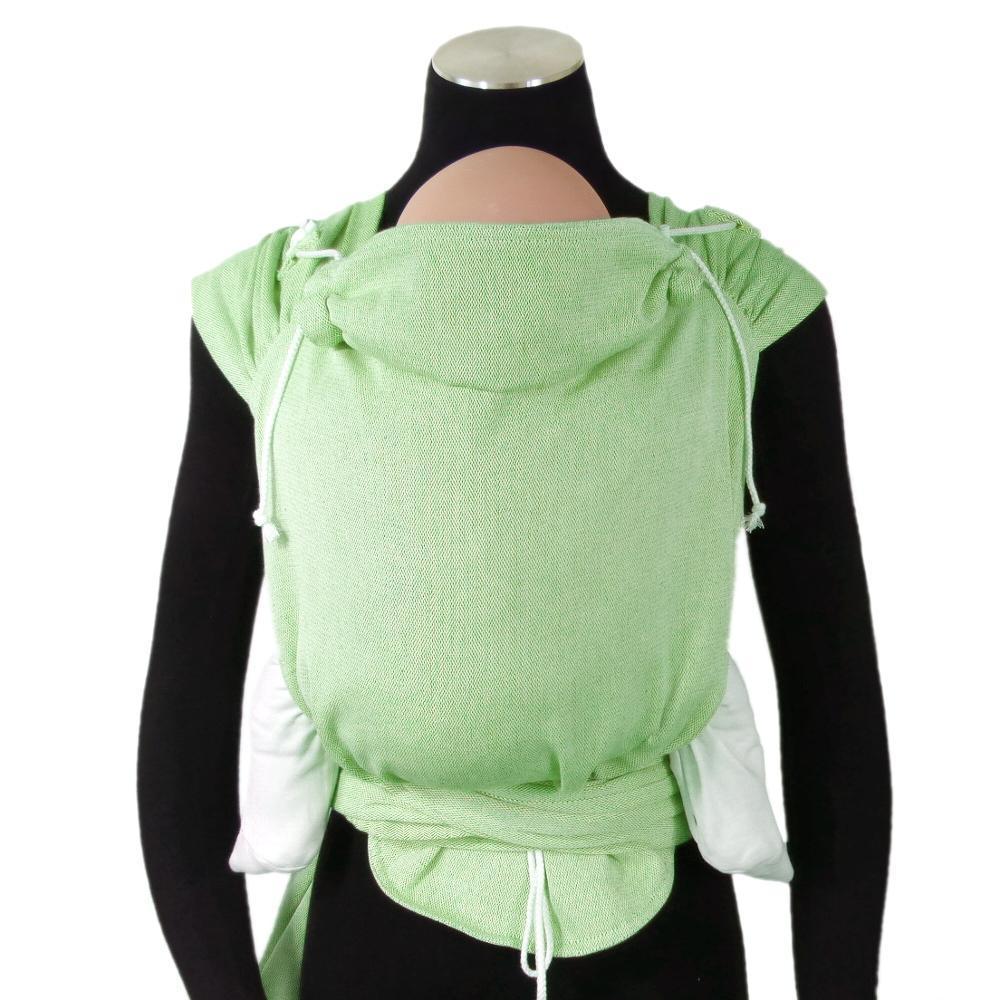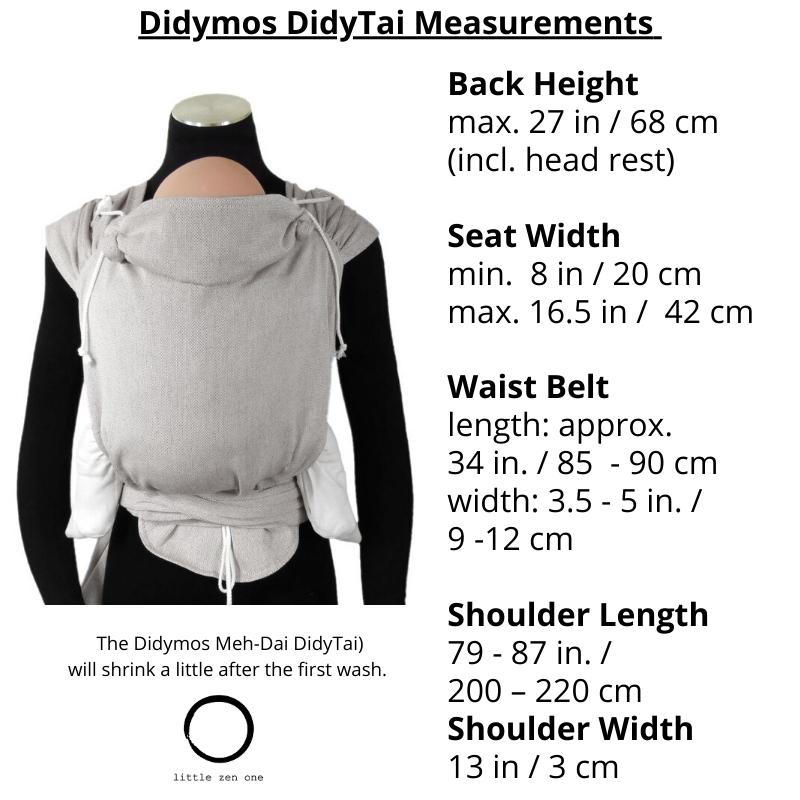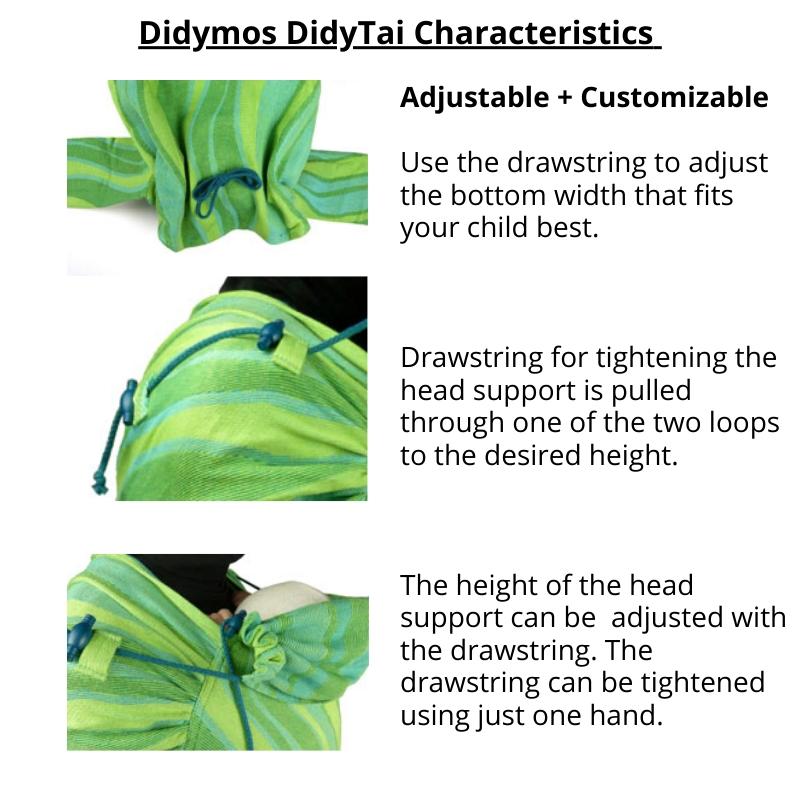 Description

Didymos Meh Dai DidyTai Jade


Jade is made from sturdy fabric offering great support and comfort. Natural white and green organic cotton blend into soft green - perfect at home and for your outings.

Didymos DidyTais offer the comfort and support of a woven wrap in the ease and form of a meh dai style carrier. They are used from newborn to toddler as the length and width of the front panel are adjustable. DidyTais come in one size. They are are a great alternative to soft structured carriers for the infant stage and will grow with your baby.

Details:
Fabric: 100% Organic Cotton
Color: Green, White
Fabric Weigh: 240 GSM (medium weight)

The DidyTai is a soft and easy to use Meh Dai baby carrier, made from a rectangular piece of woven baby wrap - the same comfortable woven fabrics as Didymos woven wraps - with four straps sewn to its corners. It may be worn on the front, hip, and back. When carried, your little one will be in a spread-squat-position, to guarantee healthy positioning of their hip joints. The carrier features a drawstring to adjust the width, allowing you to use from newborn on.

The fabric and carrier are woven and manufactured in Germany and are not treated chemically either before or after manufacturing.

DidyTai Measurements




Back Height


max. 27 in / 68 cm (incl. head rest)

Seat Width 

Waist Belt 


approx. 

34 in / 

85

 

- 90 cm

width 3.5 - 5 in /  9 - 12 cm

Shoulder Length
79 - 87 in / 200 – 220 cm 
Shoulder Width
13 in / 33 cm
Shipping & Returns

Shipping Information

In-stock orders are processed within 72 business hours after you receive your order confirmation email. We ship from Buffalo, New York in the USA, and Mississauga, Ontario in Canada. 

If an item is on back-order, you will be notified by email.

Once your order is shipped from our warehouse, you will receive an email notifying you your order has been shipped. 

Please note, we see delays in the initial scan of packages at USPS and Canada Post, and this is outside of our control. We appreciate your patience!

International Shipping

Do we ship to APO? Yes, we do.

Do we ship Outside of North America? Yes! Shipping charges for your order will be calculated and displayed at checkout.

Internationally, we offer Carrier Calculated Shipping and $15 Flat rate Partially Tracked Shipping

Your order may be subject to import duties and taxes, which may be incurred once a shipment reaches your destination country.

Little Zen One is not responsible for these charges if they are applied, they are your responsibility as the customer. 

How do I check the status of my order?

When your order has shipped, you will receive an email notification from us which will include a tracking number you can use to check its status. Please allow 48-72 hours for the tracking information to update as there are delays at Canada Post and  USPS with the initial scan. 

In North America, If you haven't received your order within 10 days of receiving your shipping confirmation email, please contact us at hello @ littlezenone.com with your name and order number, and we will look into it for you.

If you are outside of North America, please allow 21 days before contacting us.

You can also track your order by clicking here.

Refunds, returns, and exchanges

We accept returns up to 30 days after delivery if the items are unused and in their original condition (not tried on).

If your order is eligible for a return, we will refund your order amount minus the shipping costs and a 10% restocking fee. Please view our full return policy here.

If you have any further questions, please don't hesitate to contact us at hello @ littlezenone.com.
Tutorials

Sizing Your DidyTai

Newborn Front Carry

 Back Carry with a Hip Scoot

Back Carry Finish Options

Meh Dai Finishes

How to Nurse in Meh Dai
Why we love the DidyTai
If you are not ready for a full-length woven wrap or just want to add a lightweight and quick option to your carrier collection, give the DidyTai a try! This ethically woven 100% organic cotton woven carrier is a great option for caregivers looking for a semi-structured, versatile carrier. The DidyTai provides the feel of a wrap, and is easy and comfortable, for both you and your little one. This carrier is designed to be used from birth all the way through to the toddler years.
We love our DidyTai!
"This is one of my favorite carriers! It's so easy to use and works for babies of all ages. I carried my tiny 10lb niece in it, my chubby 20lb 1-year-old, and my 40lb 3-year-old. It is always comfy, even when I quickly put it on. The wide straps distribute the weight perfectly. Oh, and lots of sleepy dust my little guy always falls right to sleep."
Amanda, Hayden, Idaho
Customizability and Comfort
Parents love this soft carrier. The front panel is moldable allowing a comfortable, custom fit for baby and caregiver. Your little one will be in a spread-squat-position to guarantee healthy positioning of their hip joints. The wide but not bulky shoulder straps provide comfort and adjustability for a wide variety of wearers - from petite to extra tall!

The DidyTai is made from a rectangular piece of the same woven fabric as the well-loved Didymos wraps with four straps of the same material sewn into the corners. It also has a generously sized hood, perfect to support your little one's head during naptime.

The DidyTai Meh Dai is the perfect halfway point between a structured carrier and a woven wrap. Meh Dais can be worn on your front, back (for a high, mid or low back carry), or on your hip. It can be worn apron or non-apron style. The DidyTai comes in a wide variety of woven fabrics meaning there is a pattern and style of weave to suit everyone's style.
A necessity
"My LO refused to go in the wrap we us to use when he was about 6 months old. This made life pretty difficult to get anything done because he always wanted to be held. I spent about a month looking for a good wrap that would work well for us. I tried out several different kinds and had no luck with any of those. This is it!!! 100% Best Buy I've made!! Honestly the best baby essential. I am able to wear him all day. I can cook, clean, take care of everything I need. He even naps while he's in there. The fabric is great. Soft and comfortable. The wide straps allow to distribute his weight so that I can wear him very comfortably for hours at a time which keeps him very happy and content !!!"
Kayla G., Louisville, Kentucky
DidyTai Measurements
Back Height: max 27 in / 68 cm(incl. hood)

Seat Width: min. 8 in / 20 cm | max. 16.5 in / 42 cm

Waist Belt: approx. 34 in / 85 – 90 cm, width 2.5 – 5 in / 9 – 12 cm

Shoulder Length: 79 – 87 in / 200 – 220 cm

Shoulder Width: 13 in / 33 cm
"I just got my first DidyTai today. The little guy fell asleep within 2 minutes. I wasn't so sure if I would like it because I'm so hot-natured, but it really feels pretty breathable once it's on. My newborn feels weightless, and my 30lb toddler feels pretty light too! This is the first baby carrier I feel like I could wear all day."
Tatiana, Livingston, Texas