Integra Baby Carrier Solar Lucite
Integra Baby Carrier Solar Lucite
Product Description
Description
Integra Baby Carrier Solar Lucite

Size 1 and 2 are a PRE-ORDER. Shipping Spring/Summer 2022.

Light, ergonomic design for optimal support and comfort for infant and carer. Sun-protective fabric which blocks 95-99% of the sun's harmful UVA and UVB rays. 

This sleek one-piece design incorporating a large sun/sleeping hood that fastens with small buckles to the shoulder straps to keep baby shaded or support a sleeping head. the ideal hot weather baby carrier but also versatile in all seasons.

IMPORTANT: The "Short Strap" versions work for ALL bodies, while regular straps carriers may not work for a shorter wearer.

 Key Details:
Sun-protective fabric blocks 95-99% of sun's harmful UVA and UVB rays

Highly breathable, moisture wicking and non-irritating, even to sensitive skin

Made fully in solar fabric with polyester padding in the shoulder straps

Fabric is very strong, has a cotton-like feel

Sleek one-piece design incorporating a large sun/sleeping hood that fastens with small buckles to the shoulder straps to keep baby shaded or support a sleeping head.

Designed to keep baby cool in the heat of summer as well as offering protection from the sun

Ideal for use during light rain showers, at the pool or beach, and in the shower 
Key Features of the Integra Baby
Soft waist to create a perfect fit every time

Dual Adjustable buckles to ensure an easy close fit

Easy to adjust to different sizes

Front and back carry options

Ergonomic Design, Optimal support and comfort for infant and carer

Compact and machine washable.

Birth to Toddler

Safety tested

Made in the UK
Short Straps are 2 inches shorter on the shoulder padding section (Ideal for petite wearers.)
Designed by Sarah Sadler, the Integra Baby is the must have essential for the style conscious parent. Sarah has worked in the baby carrying industry for over 11 years and is the longest practising Babywearing Consultant in the UK.
Shipping
In-stock orders ship within 72 business hours from our warehouse. You can choose Flat Rate or Carrier Calculated Shipping. Please note, there are delays with the first (initial) scan at all carriers due to COVID volume. We ship with USPS in United States. In Canada via Canada Post, Purolator, Canpar and UPS. Worldwide with Asendia or USPS. If you need your order faster - no problem! Please reach out and we can off Express and Priority Shipping Options. Outside of North America? You may be charged duties and/or customs fees.
Customer Reviews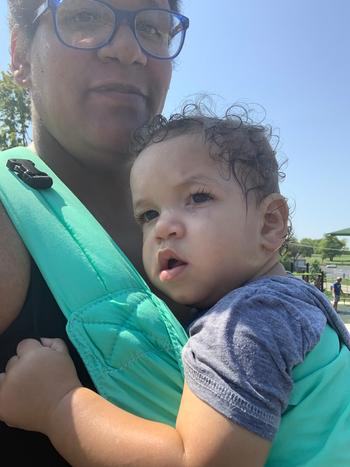 08/28/2020
Amazing Carrier!
I love my Integra Solar, it's so comfy even on my very pregnant belly. My 11 month old is super happy in it and it's very easily adjusted. It was nice and comfy even when wet, and it washed and dried quite nicely! It was even dry before we left the splash pad! So thin and awesome! I can't recommend the Integra Solar enough.
Miranda H.
Oak Grove, Missouri, United States
04/07/2022
I recommend this product
Lucite
The most perfect color! We love our solar so much. Its the only buckle carrier i will use. So compact and small, but still somehow comfy even with a giant 4yo
06/30/2021
Amazing customer service
First of all I love this carrier. It is light weight and ready to put on. Wore it to the beach with my 13 month old into the ocean. He was secure the entire time and it did super quick after. Was comfortable over my swim suit. But best of all read the customer service. My carrier was backordered and Alloe worked hard to make sure I got it just in time for my trip. Even overnighting one when there first got held up. Great product and great customer service!
Megan
Columbia, South Carolina, United States
06/21/2021
integra solar
I took this carrier to the water park and it was absolutely perfect...just what I needed...Love it
brianna L.
Cedar Lake, Indiana, United States
06/12/2021
Great carrier
I wanted a carrier that I could use in the pool. This is perfect. I wish the straps didn't have to be crossed in the back, I wish the straps were like my Ergo. That said, overall it does work like an Ergo. It dries very quickly and I felt my baby was secure. I have four children, so I knew I would need something like this to take them to the pool this year. Glad I bought it!!
Amy L.
Cary, North Carolina, United States
06/08/2021
One of the best carriers I've ever had
We just bought this carrier a bit over 2 weeks ago and have already used it multiple times! It's total love. The color is beautiful. The material is lightweight and still super soft to the touch. It's extremely easy to adjust to get a comfy position for both me and my lil guy. I love how I can be at the pool or around the splash pad and still be hands free while my baby is having a major snooze fest!
Lisa R.
Monroe, New York, United States
07/20/2018
Solar Integra
The best buckle carrier for summertime hands down! So light and easy to use, no big learning curve imo. Great that it packs up small and easily fits my diaper bag and doesn't add bulk or weight. The colour is beautiful and bright. Love that it has UV protection and can be used near water. Babywearing can be hot but this fabric helps a lot. Item shipped fast once it was in stock and Allie provides a wonderful little note with each purchase, such a lovely touch. Thanks Little Zen One for carrying such a quality product.