Angel Wings Babywearing Hoodie Bordeaux
Angel Wings Babywearing Hoodie Bordeaux
Product Description
Description
Angel Wings Babywearing Hoodie in Bordeaux red. 

We are your North American source of high quality Angel Wings clothing!
Angel Wings Babywearing Hoodies are a high-quality addition to your Babywearing wardrobe. Use it for front or back carrying, when pregnant, or on it's own. Made of fine ribbed cotton with soft fleece inside it is cozy and tactile.
The 3 in 1 fashionable hoodie has been designed for those who carry their children in a wrap or ergonomic carrier. It can also be worn as an underlayer to your winter jacket.


DETAILS:
Color: Bordeuax Red
Material: Cotton 40% Polyester 56% Spandex 4%
Care: Wash Inside Out
Designed and Made in the Czech Republic

Bottom edge, sleeves and the collar are made of flexible rib that keeps its shape but still is flexible (don´t worry if it is too tight around your hips – it slackens with wearing)
thumb holes at the end of the sleeves
pockets conceals enough space for essentials
includes an insert for extension when babywearing on your front or back, neck cover (new – a panel that is fastened around your neck to invisible zippers)
Child hood for securing the head of a sleeping child
Adult hood can be buttoned up with snap fasteners to the collar so it doesn´t obstruct baby worn on your back
Check this detailed Review by Wrap You in Love
*Please note, that Angel wings Hoodie IS NOT a baby carrier nor a sling or a wrap. It has been designed to be worn over a baby carrier, or a wrap to protect your baby from weather conditions. The hoodie itself CANNOT be used as a baby carrier, a sling or a wrap.
Shipping
In-stock orders ship within 72 business hours from our warehouse. You can choose Flat Rate or Carrier Calculated Shipping. Please note, there are delays with the first (initial) scan at all carriers due to COVID volume. We ship with USPS in United States. In Canada via Canada Post, Purolator, Canpar and UPS. Worldwide with Asendia or USPS. If you need your order faster - no problem! Please reach out and we can off Express and Priority Shipping Options. Outside of North America? You may be charged duties and/or customs fees.
Customer Reviews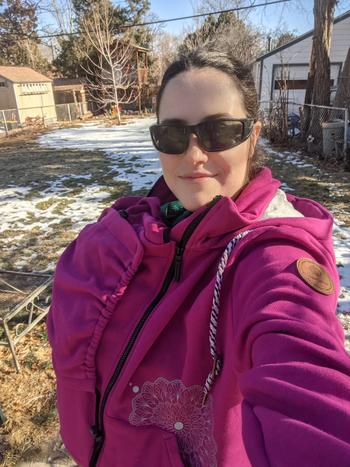 01/20/2022
Amazing
I recently purchased the pink hoodie for my mother after she saw mine. The color is a nice magenta color and the hoodie keeps baby and wearer warm.
Becka

United States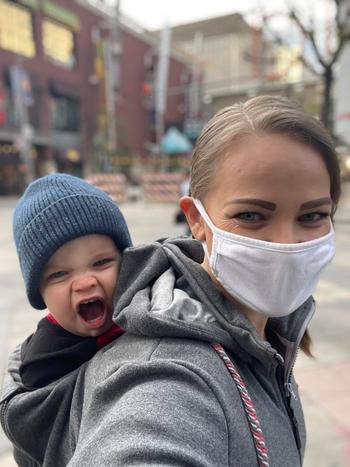 10/15/2021
I recommend this product
I'm obsessed
My only regret is not buying one sooner! With the weather changing, this is basically a permanent part of my daily wardrobe. I love the versatility and that even when I'm not wearing a baby, I can still wear this warm and cozy hoodie!
Lindsey C.

United States
10/09/2021
I recommend this product
Great for the cooler weather
This sweater is so easy to use and very soft. I love that there is a back and front carry option. The sweater is true to size with enough room for a larger child.
Becka B.

United States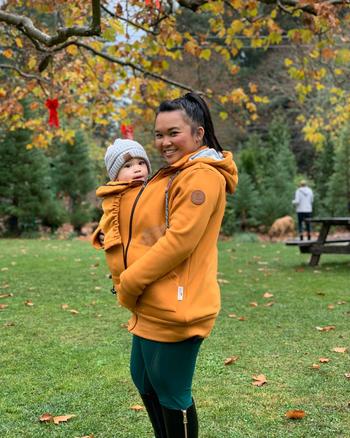 12/02/2019
Love everything about this hoodie!
I am so happy with this Angel Wings hoodie. Not only is the color just gorgeous, but it's so comfy and warm. It's perfect for our CA winters where it doesn't get too cold. It's easy to transition from a baby wearing hoodie to a regular hoodie. My son is 16 months old and fits comfortably in a soft structured buckle carrier with room to grow.
Megan G.
Cupertino, California, United States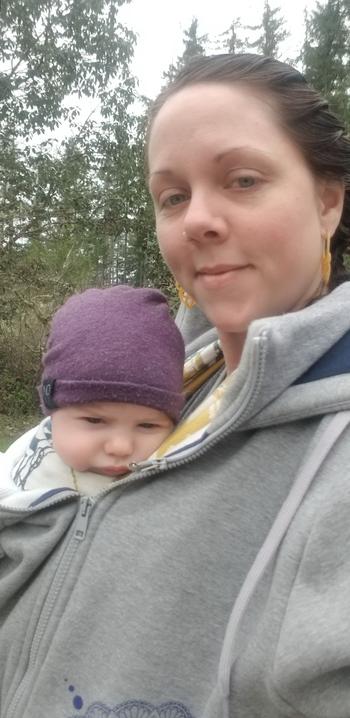 04/14/2019
Awesomesauce
This jacket is super awesome. I love how I'll be use it when the babywearing days end. Thanks so much for helping me pick it out! Awesome customer service!
Jessamyn M.
Yelm, Washington, United States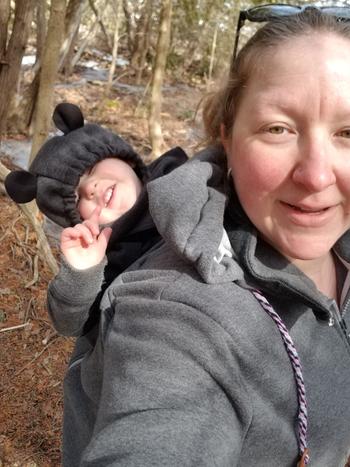 04/05/2019
The Best Babywearing Sweater!
This sweater is amazing. It has a soft, fleece-like lining. Very easy to convert from front wearing to back wearing, also very easy to put on when back wearing. There are these great adjustable elastics on the inside of the back panel, to adjust the size of the head/neck hole at the back. They really put a lot of thought into making this a great baby wearing sweater. I wore this every day, under the AngelWings Soft Shelf Jacket, through our long, cold Canadian winter, and it was the perfect combination to keep us warm, even on -25C days.
Lisa M.
Innisfil, Ontario, Canada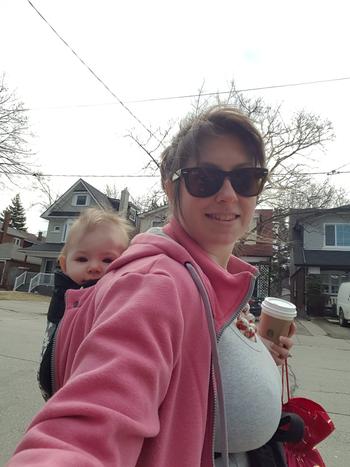 04/02/2017
Favourite piece!
This sweater is my favourite piece of clothing! I love it. Easy to put on and off, comfy and warm. And I get amazing comments all the time when I'm wearing it. My only complaint is the hood is too small and should be removable for back carrying.
01/19/2022
A must have!
I love this sweatshirt! It is so cozy and warm to wear on walks outside. It keeps my little one toasty. I find that I am even wearing the sweatshirt when I am not carrying my daughter because it is just that comfortable! I highly recommend this. (Side note: I live in Virginia so the winters don't get too cold here)
Nicki

United States