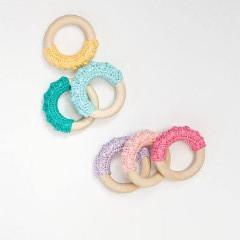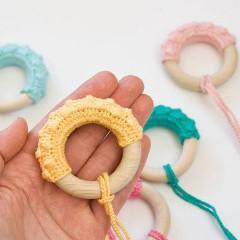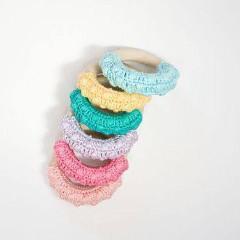 FrejaToys All Natural Teething Ring
FrejaToys All Natural Teething Ring. Handmade teething rings by FrejaToys are 100% natural, vegan and eco-friendly. They are made of ash wood and soft cotton thread. The wooden ring is not varnished and produced in an ecologically clean area of Carpathians. Wood is the most natural thing a child can put in their mouth, free of chemicals and dyes found in plastic.
The ring measures 60 mm (2 1/3 in.) in outer diameter and 11 mm (3/7 in.) thick.
Our organic wooden teethers are recently tested and conform to the new EN 71-3:2013 baby toys safety standard!

ITEM DETAILS
♥ No small parts makes the teething ring safe for babies to suck on.
♥ You can also wrap it onto a sling or stroller by using a crochet cotton string that added to the teething ring.
♥ The teething ring helps to catch your baby's attention and stimulate him or her to look and explore.
♥ Different textures (textured and soft crochet part and smooth and hard wooden ring) help to evolve your child's fine motor skills.
♥ It is just a PERFECT size for the baby's little hands.
Materials: cotton thread, ash wood, love.


CARE INSTRUCTIONS:
Wash the teether by hand with mild soap in warm water. Do not soak.
FrejaToys All Natural Teething Ring