Didymos Baby Woven Wrap Magic Forest Monochrome linen
Didymos Baby Woven Wrap Magic Forest Monochrome linen
Product Description
Description
Didymos Magic Forest Monochrome linen. Monochrome magic in in this whimsical pattern. The first release was inspired and organized by Cait Roy-Bell and Teresa Pilska, this re-weave (February 2018) is much awaited!

Linen is a favourite at Little Zen One. Linen breaks in beautifully offering the utmost in support and shines both for infants and even preschoolers. Linen's lightweight properties make this blend a perfect summer wrap and the whole year through. Our days in Panama and Canada can make that promise! Linen is great for long wears as it slides and stretches less than blends.
63% Organic Cotton, 37% linen
Anthracite, White
240 GSM
Released:  April 2017


Shipping
In-stock orders ship within 72 business hours from our warehouse. You can choose Flat Rate or Carrier Calculated Shipping. Please note, there are delays with the first (initial) scan at all carriers due to COVID volume. We ship with USPS in United States. In Canada via Canada Post, Purolator, Canpar and UPS. Worldwide with Asendia or USPS. If you need your order faster - no problem! Please reach out and we can off Express and Priority Shipping Options. Outside of North America? You may be charged duties and/or customs fees.
Customer Reviews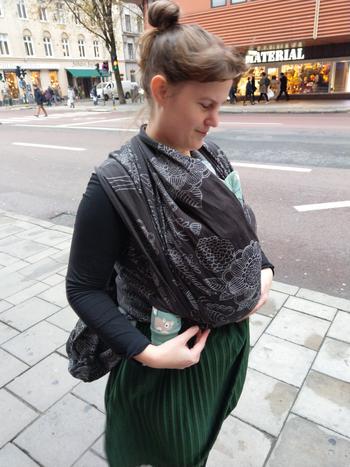 11/03/2018
Love it
My first woven wrap! Beautiful and I look forward to break it in. Fast and excellent service.
Yvette
Bagarmossen, Stockholm, Sweden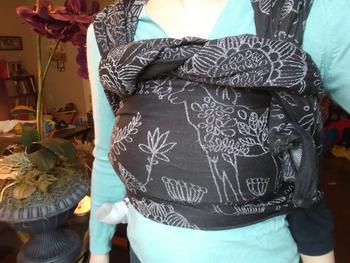 04/14/2018
Love Mono Magic Forest
Beautiful wrap. One of my favorites and recently my go to. So happy with my purchase!
Leslie H.
Nashville, Tennessee, United States
05/08/2020
Beautiful print!
This print is gorgeous! I'm going to have to start saving up to get more magic forest wraps. It almost looks shimmery. It's not completely broken in yet but I can tell that it's going to be super soft and glidey.
Sherry M.
Kitchener, Ontario, Canada
01/09/2019
Must have!
Breathable, supportive & beautiful! One of my favourite didys!
Jen
Surrey, British Columbia, Canada
12/29/2018
How precious!
I love this design. So cute & beautiful than view from monitors. This wrap is best the thickness for my toddler and 4months. Linen blend is very comfortable. Thank you:)
03/29/2018
Mono Magic Forest❤️
This wrap is Amazing! Toddler worthy and solid. Beautiful to look at. I love it
Eileen W.
Columbia, Maryland, United States