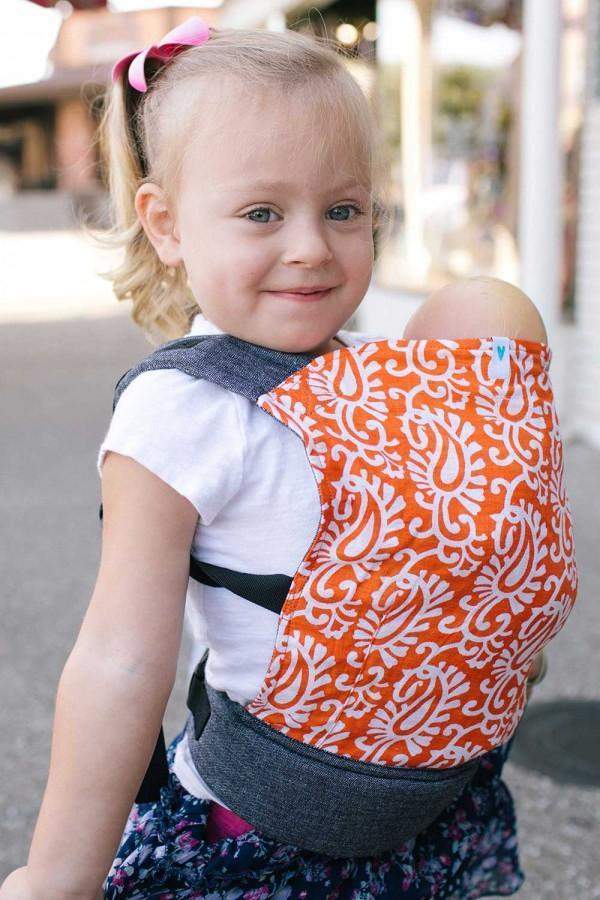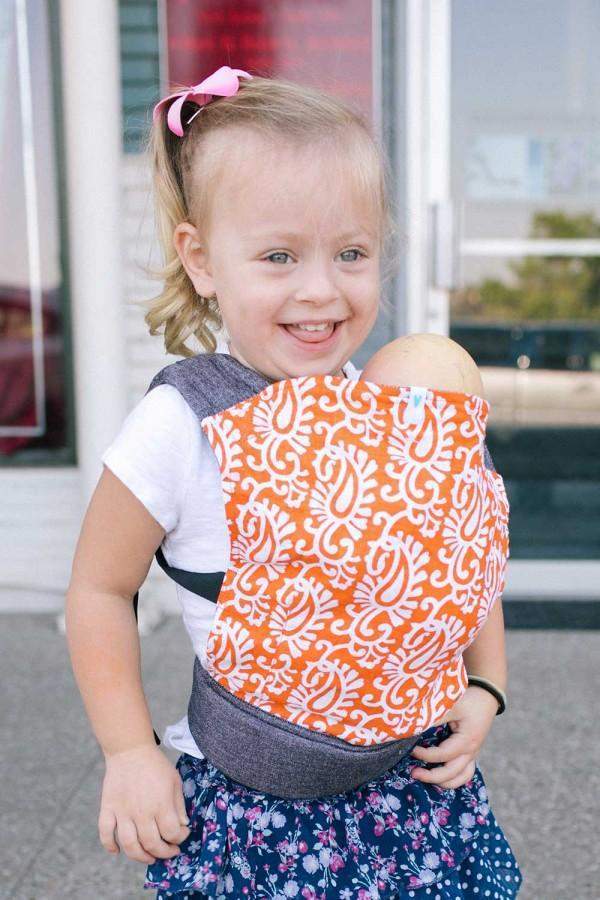 Soul Slings Orange Pop Doll Buckle Carrier
Soul Slings Orange Pop Doll Buckle Carrier. Soul Doll Carriers are perfectly suited for enthusiastic little babywearers everywhere. The gently shaped straps are comfortable on little shoulders, yet easily tied or buckled by small hands. The fabrics are the same baby-friendly 100% pure cotton as other Soul baby products, making them sturdy and easy to maintain.
Sizing

Waist belt padding - 19
Panel hight - 12
Panel width in the center - 10
Waist length - minimum 18.5 - maximum 29.5
Shoulder circumstance - minimum10 - maximum 28

Soul Doll Carriers are really easy to use!
First, tie or buckle the waist straps around your waist.
Now hold your baby to you tightly with one hand.
Lift up the doll carrier panel.
Adjust the shoulder straps comfortably and tie or buckle them as required.

Yay, that's it! Now you and your doll can stay #happytogether

Safety & Maintenance
This is a toy! Do not use this doll carrier to carry a real baby or pet.
Suitable for ages 2+.

The long straps can be a safety hazard to a small child. Please use this toy under parental supervision only.
Please wash your Soul Doll Carrier in cold water, with a gentle detergent only. Line drying in the shade will keep the colours looking good. Some colour may bleed so initial washes should be separate.
* Soul fabrics may show colour variations, loose threads, tiny slubs, snags or unevenness that are characteristic of natural fibre textiles. These variations should in no way be considered flaws or defects as they do not affect the functionality of the product. It is the nature of the fabric and, these imperfections highlight its natural beauty and uniqueness.
* All images in this website are for representation purposes only. Please be aware that the final product in hand may have slight variations in colour and texture when compared to the product photo(s) in this listing.
Soul Slings Orange Pop Doll Buckle Carrier